Top 10 Empowering Educators Podcast Episodes
The Empowering Educators Podcast has reached it's 5th birthday and has over 200 episodes to celebrate. It's mission is to educate and inspire educators to remain in the field with the support shared on every episode. This podcast is geared towards new teachers, teacher leaders, and teachers in distress or transition.
With over 250,000 downloads, listeners have chosen their top 10 favorite episodes. Get caught up below: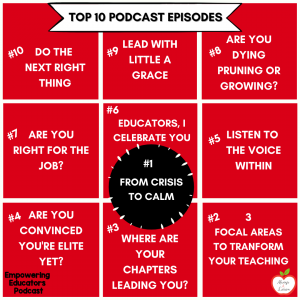 During uncertain times, the overwhelm can be debilitating. By focusing on doing the next right thing, you can strategically move forward, build momentum and gain sanity. Tune in to learn a 3 part system that will help you navigate any new situation you face so that you come out on the other side successful.
Effective leaders lead people from a place of grace not from an agenda. Everyone faces stressors on the job and being able to acknowledge the timing and size of such stressors in order to lead others towards effective change requires intention and grace. Tune in to hear how to meet your job requirements while leading others towards beneficial change during the Back-to-School mayhem.
8. Are you Dying, Pruning or Growing?
We are all learners, honing our craft so we can better serve those we impact. Brian Mendler says, "Every plant has their own requirements in order to grow…and so do people."  We can get caught up in seasons that leave us dying instead of thriving, or pruning instead of moving forward, or growing to greater heights. Whatever the season, we can better understand what requirements we have to grow and how we can advocate for those opportunities in abundance. Tune in for your action steps!
If you are a teacher in transition or distress, have no fear! This challenging season you are navigating will not last forever. In fact, the quicker you can jump to action for becoming the ideal person for your dream job, the faster you will be able to claim it as your own. Tune in for some solid advice on becoming the right hire and 3 tips for making that a reality right now.
Educators are the most amazing creatures. This episode is completely devoted to the unbelievable educators who do the most important job on Earth. There is an encouraging message for new teachers, teacher leaders, teachers in distress and teachers in transition. Every educator is celebrated!
Sometimes we ignore our inner voice that prompts us to discover our greatest assets. We are too consumed with fitting in when we need to stand out in our own unique way. Our gifts will not only enhance our lives, but those around us who we lead. Tune in to hear 3 practical steps you can take in the new year to listen to the voice within so that you can grow to your truest potential.
4. Are you Convinced You're Elite Yet?
Hitting the 200th episode milestone means you have been learning and taking action on 200 edu-lessons! That is something to celebrate. This episode thanks you the listener for all the hard work you have been doing investing in your own potential. Your favorite past episodes are revisited, past guests make an appearance and I share an action step to bring your 2020 goals to fruition. Tune in to remain empowered for 200 more episodes!
3. Where are Your Chapters Leading You?
The chapters in your life are leading you somewhere. You have the choice where that destination is and you have the control along the way to shift your path if you so choose. Tune in to hear about 3 pivotal moments in my educational career that acted as catapults into the next chapter of a bigger, better version of myself.
2. 3 Focal Areas to Transform Your Teaching
When you first begin teaching, there are so many changes you want to make to your instructional practice. Knowing what tweaks to make and which ones to save for later can be a daunting task. This podcast episode will walk you through 3 focal areas of your instruction that will have the biggest impact on student achievement and your own teaching proficiency. This way you get more bang for your buck with every change you make.
This podcast episode was previously recorded as a free webinar for teachers after they received the news that schools would be closing for multiple weeks due to the COVID-19 virus precaution. It provides tips and strategies to navigate chaotic, under-supported moments in education. Learn how to develop a success plan for e-learning, achieve calm, efficient work-life balance, develop a workflow that maximizes time, reserve time and space to be readily available for students and colleagues and prioritize your well-being above all else.
May these episodes educate and inspire you to continue the great work you are doing for the profession.
GO BE GREAT!

Which was your favorite episode?