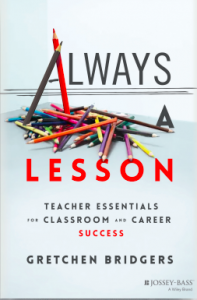 Coming April 2024! 
Step-by-step advice to help teachers master classroom management, lesson design, student engagement, and beyond
Always a Lesson: Teacher Essentials for Classroom and Career Success is the book that can turn every good teacher into a great teacher. The art and science of teaching can be difficult to navigate. There are moving pieces that change how teachers should approach instruction, like unique student needs year after year, curriculum changes, updated research on best practices and more. It's essential that teachers of all levels continue to learn and develop their craft so that they can best manage these moving pieces. Using personal stories and tangible next steps gained from her experience as a teacher and teacher leader, author Gretchen Bridgers can level-up your teaching, filling the gap left between traditional teacher-training programs and the real world.
With high teacher turnover rates in the wake of the great resignation that occurred post-COVID, teachers need support more than ever. Always a Lesson offers a systematic process for strengthening the skillset of any teacher. The sequence of what teachers work on is the key to move through obstacles and increase effectiveness. No matter their level of expertise, Bridgers takes the stance that all teachers are learners. By applying the principles and strategies in this book, novice to veteran teachers will see a positive impact on student learning and their proficiency as an elite educator.
K-12 teachers, teacher mentors, instructional coaches, school administrators, and anyone else with an interest in improving teacher retention will thank their lucky stars for this book.
Pre-Order below

:
Book Details:
ISBN: 978-1394158805 | Publisher: Jossey-Bass | Edition: 1| Language: English| Release Date: April 2, 2024