Seasons of Coaching Blog Series: Winter Strategy
A coaching strategy ensures teacher leaders have a focus for how to support teachers. This strategy is a thorough plan that is aligned to state/district goals, school curriculum, and teacher needs and wants.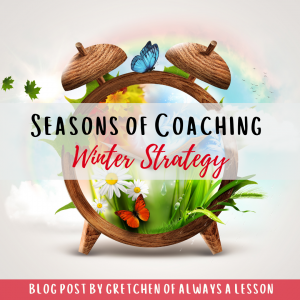 Having a seasonal coaching strategy ensures you are responsive to the growing needs and wants of teachers. It also continues to build momentum in teacher proficiency and student achievement. Grab the "Creating a Coaching Strategy Checklist" to help you prepare to implement the ideas below.
The previous post in the series described the fall coaching strategy. (Read it here.) Much of the fall coaching strategy is foundation building, setting the tone for a successful teacher-leader partnership for the year.
Just like the winter months bring in the cold weather, we bulk up and add layers, both in clothing and instructional support. Teacher leaders can layer in new instructional techniques on top of the foundation that was built in the fall. Because winter is made up of shorter days of sunshine, you have to be intentional with your time. The same is true with the winter coaching strategy. You must be intentional with your support, choosing how to support a teacher that provides the biggest "bang for the buck." This is high level strategies that will have a domino effect in helping other areas the teacher might be struggling in, not just the main focus they are working on with you.
The following three steps show the trajectory a teacher leader would take to help the teacher grow in strength in the classroom.
Step 1: Lesson Design
Start here with teachers who struggle to write thorough lesson plans, experience a disconnect from what they planned and how they executed the plan, or teachers who need to think through the logistics of their lesson from start to finish. Designing a learning experience for students is more than filling in a lesson plan template. It's like putting on a play, with lots of stage directions and behind-the-scenes prep. Do not move on until this is mastered, or the next stages will not be successful.
Step 2: Classroom Management
The next level of support is to focus on routines, structures, and systems for the classroom. Help teachers move beyond being reactive by solely managing behavior, to proactive by implementing boundaries for success. Systematizing a classroom takes vision, planning, execution, reflection, and revision. This can take many weeks to figure out what works best for a teacher's personality, skill level, and classroom climate. Do not move on until this stage is mastered, or the final stage will not be successful.
Step 3: Student Engagement
Finally, teachers have the basics of the classroom in motion and are ready to layer in student engagement. This is accounted for in lesson design and thoroughly planned out in the classroom management stage, but now it's time to execute the plan. Start small with simple ways for students to engage with the content, the teacher, and each other. Once students master the simple engagement techniques (ie. turn/talk or stop/jot), you can experiment with more elaborate opportunities (ie. four corners or gallery walk).
NEXT STEPS:
Join the virtual coaching summit this winter break to learn specific micro strategies you can employ to help teachers maximize their growth in the classroom. I am sharing more about seasonal coaching strategies in my session called "Hot Spot Coaching- Providing Targeted Support to Teachers." Be sure to grab your ticket!
If you're looking for guidance and feedback while you begin to implement your seasonal coaching strategy, join the Teacher Leader Mastermind! It's a community of coaches nationwide that meet virtually to chat through obstacles, celebrate wins, and cheer each other on as we grow our leadership skills.
GO BE GREAT!