Seasons of Coaching Blog Series: Summer Strategy
A coaching strategy that shifts with the seasons helps teacher leaders deliver strong support to teachers. If we only ever use one strategy for the entire year, we miss out on the opportunity to respond to the unique needs of teachers as they change throughout the school year.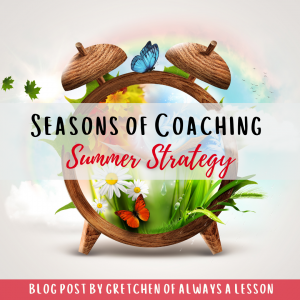 The previous posts in the series described:
Fall Coaching Strategy (read it here) – foundational skill building
Winter Coaching Strategy (read it here) – more complex instructional techniques
Spring Coaching Strategy (read it here) – revisit data and spiral skills
Just because the school year ends, does not mean your coaching work does. Summer is a time to rest and relax. The heat forces us to eliminate extra clothing as we go about our day. When it comes to a summer coaching strategy, eliminating extra's is essential. Simple is best. An intentional, bare bones approach is appropriate during this season.
Grab the "Creating a Coaching Strategy Checklist" to help you prepare to implement the ideas below. Below are two steps to follow to create an effective summer coaching strategy.
Step 1: PD for yourself
Sprinkle in professional development for yourself that fits into your schedule so that you can continue to grow your craft. You can listen to a podcast, tune in to a virtual conference, subscribe to an educational magazine, or collaborate with other teacher leaders. Plus, all that can be done poolside or while on vacation. You do not need to accumulate lots of hours of learning, but short bursts on a consistent basis will keep your mind fresh.
Step 2: PD for teachers
It's also time to begin thinking about the back-to-school season, planning PD that is restful and collaborative for teachers. They will be coming off of a summer break so making the learning transition seamless is important. Teachers will want to go at a slower pace than during the school year, have more movement incorporated into activities, and have plenty of time to chat with peers. You can create an impactful PD while still honoring their tired minds and bodies. It's about warming up their brains and building comradery among colleagues, all while setting the stage for the upcoming school year.
NEXT STEPS:
Want help closing out the school year while still employing effective seasonal coaching strategies? Grab the printables for each step mentioned above in the Coaching End of the Year Resources.
If you're looking for guidance and feedback while you begin to implement your seasonal coaching strategy, join the Teacher Leader Mastermind! It's a community of coaches nationwide that meet virtually to chat through obstacles, celebrate wins, and cheer each other on as we grow our leadership skills.
GO BE GREAT!