What is the Difference Between a 'Novel Study' and 'Book Club'?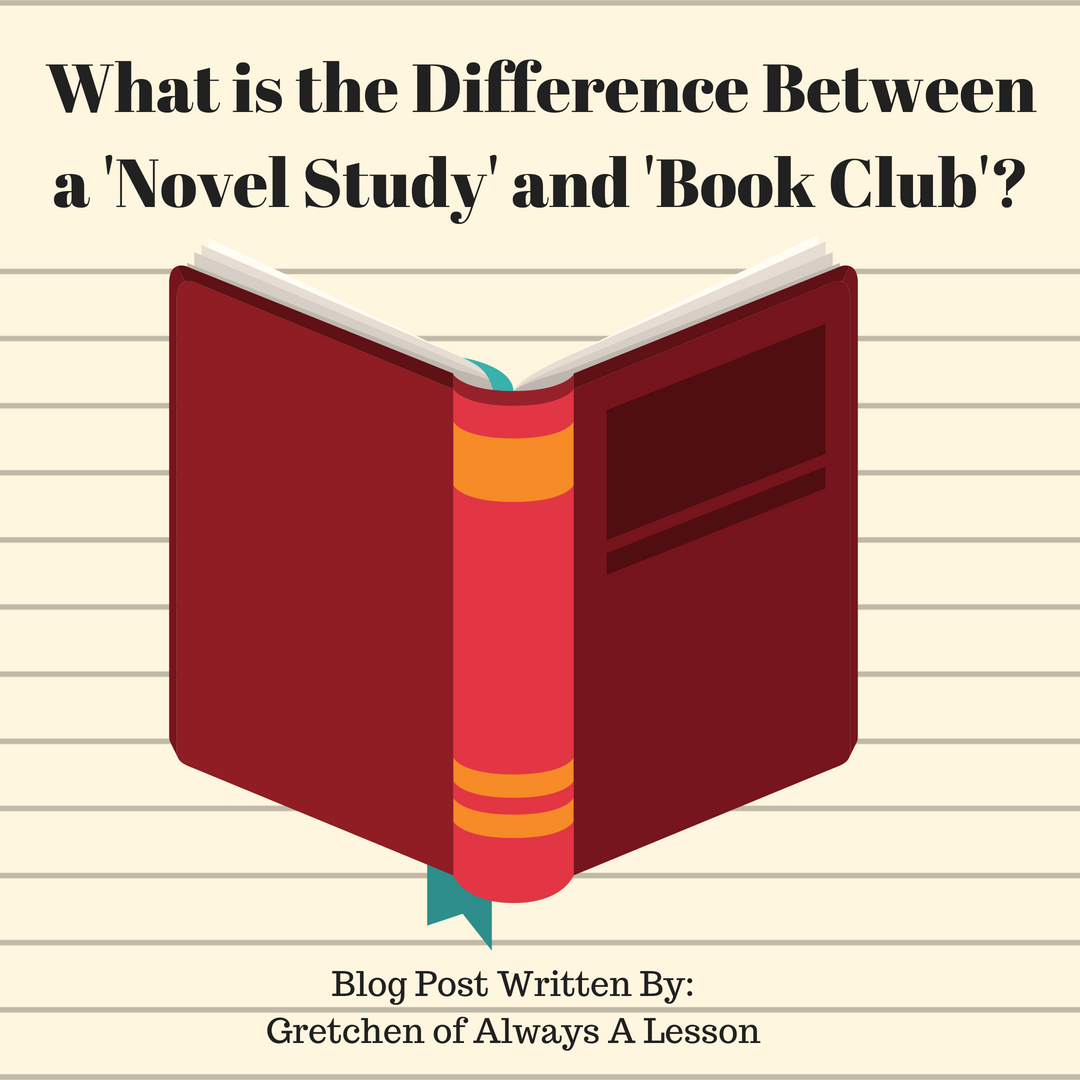 It is no surprise that teaching out of a textbook can become dull and boring day after day. Many teachers want to spruce up their Literacy block in efforts to motivate any reluctant readers. (Need help structuring your Literacy block? Read my blog post here.)
Two popular trends teachers are talking about to do just that are NOVEL STUDIES and BOOK CLUBS, but not much information is out there to help teachers successfully implement these ideas into their classrooms.
I decided to dedicate a post to this topic in efforts to 1) bring clarity to the difference between these strategies and 2) demystify the implementation process so that teachers can spruce up their Literacy block in no time!
Novel Study
A novel study refers to the process of reading (studying) a text (novel) together. This can be done by either providing one copy of the text for the teacher to read aloud to the students or providing the teacher and every student a copy of the book to follow along. During this time, the text is used to practice comprehension and fluency as well as Literacy concepts like cause/effect, summarization, making inferences, etc. (TIP: the content of the book is just as important as the skills readers are using to understand the text.)
How do you implement it?

Choose the novel ahead of time and read through it so that you are completely aware of the content and are able to plan lessons accordingly.
Plan out the sequence of chapters you will read each class as well as what reading skill activities students are going to complete after the reading. (Remember, it is not about just reading the book, rather practicing Literacy concepts while reading.)
Try this How-To Guide to get more ideas on how to implement novel studies in your classroom.
Need suggestions for novel studies? 
Book Club
Book Club takes novel studies a step further (which is why I suggest doing a novel study first). Where a novel study is designed to have the teacher in charge of the reading and discussion, book club is designed to have the students in charge of the reading and discussion. Essentially, students read a common text independently and then come together weekly to discuss the content as well as practice Literacy skills, just like a novel study. Having students meet without the teacher requires a lot of guidance at first (think: gradual release of responsibility), but it is the most rewarding way to pass the ownership on to students.
How do you implement it?

Choose a leveled book and match it to a small group of students, ideally 5-8, with the same reading level or ability.
Bring students together to introduce the concept of book clubs as well as establish rules and expectations for meeting.
Students decide how much of the book to read on their own during independent reading time before coming together once a week to discuss.
Try this Introduction guide to build student ownership through rich Literacy discussions. Want to increase accountability too? Snag the Book Club Reflection Sheet. 
See how I used this in my classroom with the Book Clubs blog post.

Share your tips and tricks for implementing novel studies 
and/or book clubs in your classroom below!