Thrifty Thursday- 1st Edition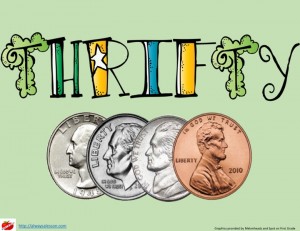 Thrifty Thursday
Each week I bring to you helpful tips to become a more effective educator on the Always A Lesson fan page on Facebook. (Give it a quick like by clicking here!) I decided to start grouping my social media posts into a blog post incase you might have missed anything.
Time to get caught up:
Buy shower wall material from your local hardware store. They cut it for free = mini white boards
Place worksheets in page protectors. Have Ss use whiteboard markers to complete & wipe clean after
Save printer ink & paper = Ss draw graphic organizers on their own paper > ownership & savings!
Tennis centers give away old balls for free. Put these on the bottom of chairs for no floor streaks
Grab floor lamps from college back to school sales to create warm light vs harsh overhead light
Fill up your classroom library by asking local libraries for throw-aways and attend garage sales!
Use shoelaces as name tag lanyards!
Take composition notebooks to your local hardware store & they will cut them in half =mini journals
Your local hardware store has cheap fabric tool belts = Ss supply or center storage
Use string instead of lanyards for name tags. Ss can mix up colors when its time to change it out
(*note: these posts are sent out via BUFFER so they follow Twitter's rules for word count and I had to get creative!)
Stay tuned for the next edition coming out in a few weeks!
Want these updates in real time? Follow me on social media via the links on top of the page 🙂