The Secret to Collaborating with Colleagues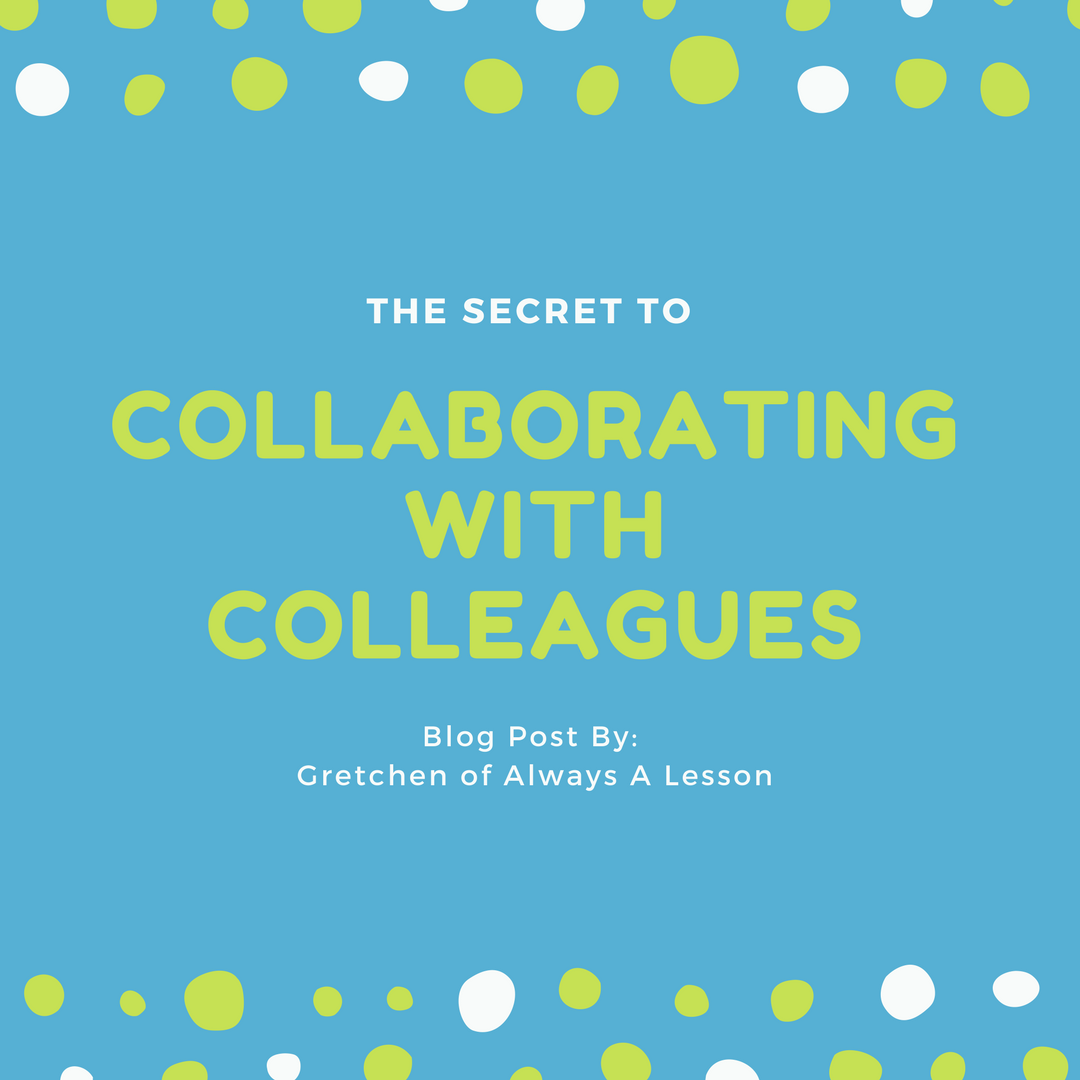 There is a myth in education that states teachers can just shut their doors and teach, neglecting everything else happening outside their classroom. That approach might have worked in the past, but in today's classrooms and schools, it just isn't practical (and definitely not an appreciated practice).
In an elementary setting, it often can be easier for teachers to run the show from start to finish since they have the same kids from morning to afternoon and from September to June. However, as kids get older and begin transitioning from classroom to classroom and teacher to teacher, isolated practices like 'shut your door and teach' isn't in the best interest of the student. There are too many variables for a student's learning success and all stakeholders need to work together to make it happen.
But there lies the myth. In elementary classrooms, it is just as important that colleagues work together to ensure "all our kids" reach success. Just because students don't change classrooms or teachers does not mean educators can shut each other out. That is the first step to stunting your own growth as a teacher and that choice has a devastating effect on student progress, both in the classroom and out.
New teachers succumb to the myth of 'shut your door and teach' because there is so much to learn about the art of teaching that they cannot even fathom adding anything more to their plate, such as building relationships with colleagues. Some new teachers have the benefit of a mentor or veteran teacher that they go to for help, but that relationship is often only going one way (receive, receive, receive).
Collaboration with colleagues has many benefits to the student, teacher, and school overall. However, shutting classroom doors to 'do your own thing' ensures collaboration becomes extinct in and around the school building. That one choice guarantees zero benefits result for the student, teacher and other school members.
The secret to building successful relationships and collaborating with colleagues is this:
Be available.  A closed door or mind is not welcoming to passersby. Open up your classroom door and your mind so that you can be perceived as an approachable individual.
Be open to new ideas and perspectives. Make the decision daily that new ideas and perspectives can enhance your ability to teach and therefore you will appreciate any new thoughts you hear from your peers during the day.
Give and receive. Relationships require a give-and-take song and dance. Collaboration is stunted when an individual performs the same part of the relationship over and over. It is important to be on both sides of the coin, giving to help others as well as receiving for your own benefit.
Model collaboration for students. Students are always watching. They should see their teacher chatting with colleagues about instruction, getting excited to try new approaches, encouraging one another to do a great job, celebrating new territory explored, etc. Teamwork is easy to replicate when students see it in action from professionals- their teachers.
Share stories, examples, and research. Help your colleagues see the benefits in your own teaching journey by sharing stories of how collaboration has shifted your practices and impacted student achievement. Get personal with specific examples as well as share the latest research you uncovered. Collaboration will spread when it seems relatable.
Move beyond your geographical location. A colleague doesn't have to be a person in your school building. It can be an educator miles away geographically, but with just a quick text, phone call or social media message they are near when it counts. Connect with other amazing educators around the world to better your practices.
The secret as you can see is not a one size fits all approach or a simple recipe to follow for guaranteed success. It is, however, a shift in mindset with immense impact on the daily work of a teacher, professionally and personally. The steps listed above cannot occur without that mind shift; therefore, the secret is to shape our notions and thoughts about collaborating with colleagues so that when we apply the steps mentioned above, we learn, grow and reach our own potential for the benefit of our students.
Educators are the most flexible people on the planet, so it is no wonder changing a mindset would be easy for them too!

How has collaborating with colleagues enhanced your skillset as an educator?