Must Have Supplies for An Instructional Coach
As an instructional coach, there are certain items that can make supporting teachers easier. Each of the items shared here are highly recommended by myself as a teacher leader working in multiple buildings across a large district.
Grab a binder and fill it with essentials like your standards, pacing guide, and teacher performance rubrics.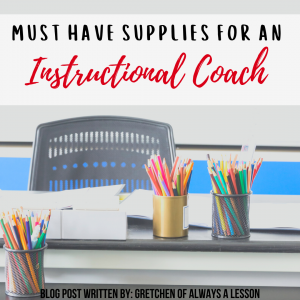 Below is a list of categorized items (as well as a brief description) that I used as an instructional coach:
Office Supplies
Swag
Bag– Carry all of your essential items with you in a comfy, cute tote
Mug– Energize yourself for a day of coaching with a cute mug
T-Shirt– Celebrate your role as a teacher support person on dress down days at school
Technology
i-Pad– Digitize your work on the go
Lap Top– Break out your portable work station when needed
Flash Drive– Access your documents with ease on the go
Additional Resources
Happy shopping as you build your coaching tool kit! GO BE GREAT!

What supplies would you recommend for an instructional coach?