Let's Talk Literacy: Upgrade the Effectiveness of your Literacy Block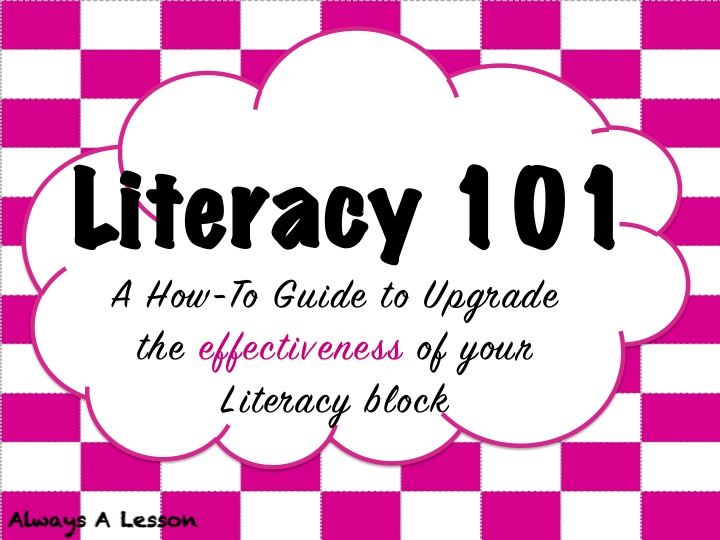 This past year I dove into Facebook Groups. I have met lots of inspiring educators, but I have also come across quite a few S.O.S. requests from teachers in the area of Literacy. It seems many teachers across the country are given too much freedom in the classroom without any clear expectations. You might think this sounds like a dream come true, but in reality it can be very anxiety provoking. Being told you are teaching Literacy for 2 hours and no idea what to do to fill that time is daunting, especially if you are a newer teacher or one who is used to a scripted curriculum.
I have been diligently sharing ideas for a successful Literacy block with teachers asking for help in these Facebook groups, but I realized I was answering the same types of questions over and over again. So, I decided a better way to help teachers on a grander scale is to outline my own suggestions in a blog post so I can easily share at a moments notice. My hope is that this blog post is clear and encouraging so all teachers can be successful in the classroom.
(I have also provided numerous resources within this post that you can download separately or as as bundle if you want all the goodness mentioned so be sure to click on the links when interested!)
What Should I do During a Lengthy Literacy Block?
English Language Arts was what Literacy was called back when I was in school. It was a mesh between English (studying literature works) and Language Arts (studying grammar rules and the art of the language).  Literacy is essentially the same idea of being all encompassing with skills to be a strong reader, writer, speaker and listener in the English language. These four aspects are important to include in daily instruction so when you know your schedule and length of time devoted to Literacy you can begin to break it up into appropriate sections. You will want to spend more time on reading and writing and less time on speaking and listening, although still important to do all components on a consistent basis. Also note that you should create a Literacy routine you follow daily so students can know what to expect as well as easing your ability to provide structure and support to students when needed without getting overwhelmed.
What is Balanced Literacy?
Balanced Literacy follows the same theory of ensuring teachers are providing a balanced approach to teaching Literacy. You want to be sure you are exposing students to grade-level text as well as opportunities to read literature on their own reading level.
Snag this bundled resource to find out more about each component of Balanced Literacy as well as what the teacher and student roles should be before, during and after instruction.
Below is a brief outline of each component of a Balanced Literacy approach to instruction:
Are you struggling to figure out how to fit all of these components into one Literacy block without losing your mind? Below is an outline of a sample schedule to follow in a two-hour BL block:
First Hour
15 min- Read Aloud
5 min- Shared Reading
30 min- Independent Reading + Guided Reading Small Groups
10 min- Word Work
Second Hour
15 min- Modeled Writing
5 min- Shared Writing
30 min- Independent Writing + Guided Writing Small Groups
10 min- Vocabulary
How do I account for a variety learning styles and learning abilities during Literacy?
Guided reading and writing are the time frames in which you will provide targeted instruction to specific performance levels of your students, including empowering your higher kids and providing intensive instruction to struggling learners. Learning styles can be built into your lesson plans like you have been doing naturally in other subject areas. (Not sure what learning styles are? Check out multiple intelligences designed by Howard Gardner.) Balanced Literacy is designed to ensure students receive individual instruction on their level rather than teaching to the middle or only exposing students to grade-level expectations.
What are some center activities or ways to keep students engaged when they aren't working with me in Literacy?
Besides the activities listed in the sections above, a variety of graphic organizers and other literacy instruction resources are available in my Teachers Pay Teachers store, so feel free to browse!
Two particular activities I have used with my higher students in terms of long-term projects that are highly independent and flexible are novel studies and book clubs.
Novel Study= This activity is where the whole class reads the same book and focuses on specific literary elements through discussion (ie. main idea, cause/effect, sequencing, etc). My kiddos love the following books so I made corresponding resources to help students dive deeper into the text:
Book Club =  This activity is where students meet together in a small group to read the same book and also focus on specific literary elements through discussion. The idea is for the teacher to not be present so as to empower students through leadership and independence. See it in action here on the blog.
See What Buyers Are Saying:
On 

October 12, 2016

,  Tamera W. said: "Thanks! I desperately needed guidance on my 90 minute Literacy block!"
On 

October 22, 2016

,  Stephanie K. said: "Great resource!"
On 

November 28, 2016

,  Rita H. said: "Awesome resource:)"
On August 5, 2017, Christine W. said: "Provides lots of great information."

What additional questions do you have about instruction during a Literacy block?