Leadership Tips for Instructional Coaches- Part 1
This four-part series shares leadership tips for instructional coaches. This first post will share generalized tips and each subsequent post will be specific to an aspect of coaching.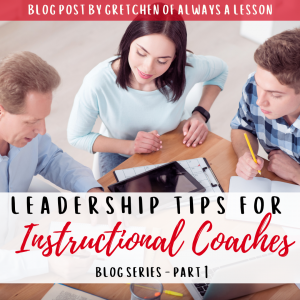 Below are 7 leadership tips for instructional coaches:
Be Human– Before leaders can lead, they need to be able to connect as people. Share your interests, show your personality, and get to know one another before you start working together. This investment creates a solid foundation for trust and respect to grow.
Be Objective– People respect leaders who are fair. When you are consistent in your actions without favoritism, people will accept your perspective as objective. Keep your own opinion silent, and operate from a factual basis.
Be Visible– Leaders have to resist the urge to shut their door to get work done. During operating hours, leaders have to be present around the school building. This shows availability, interest in others, commitment to the mission and daily work, and allows relationships to blossom. Many problems can be fixed or prevented just by being physically present in the moment. Don't underestimate hallway duty or taking the long way to the front office.
Ignite the Fire– We can't expect people to come to school excited to do the work. We must set the stage for the opportunity for excitement to fester. Leaders set the tone and culture in the building. Determine how you can ignite the fire within others instead of expecting it to happen on it's own.
Lead Alongside– Leaders do not always have to lead from the front. They can be just as effective leading from the side as they partner with teachers to complete a task. They can even lead from behind as they give complete ownership to the teacher. Much is gained by allowing others to take the reigns and grow their craft with your support and guidance.
Pass the Ownership– We cannot solve other's problems. We have to equip others with the tools to problem solve themselves while providing advice or suggestions. Otherwise, they will always be dependent on you, the leader. By increasing responsibility for problem solving, teachers will take ownership and gain the skills to do it on their own in the future.
Strategize Simply – As a leader, we can overcomplicate our strategy for impact. The truth is…change is a simple process. We must keep what is working and tweak what is not. When you follow this simple system over and over, you will reach effectiveness faster because you are responsive and proactive.
When you implement these seven generalized leadership strategies, you begin to transform the school culture that will lead to increased teacher proficiency and student achievement in the classroom.
NEXT STEPS
Continue to follow this blog series for more leadership tips for instructional coaches. Click here to read part 2.
If you'd like to dig in on a deeper level, you can gain professional development (and credit towards your teaching license) through the "Teachers Who Lead" course bundle.
Get access to more instructional coaching resources and professional development resources below:
Go Be Great!

What leadership advice do you have for instructional coaches?