HELP! I'm Changing Grade Levels, What Do I Do First?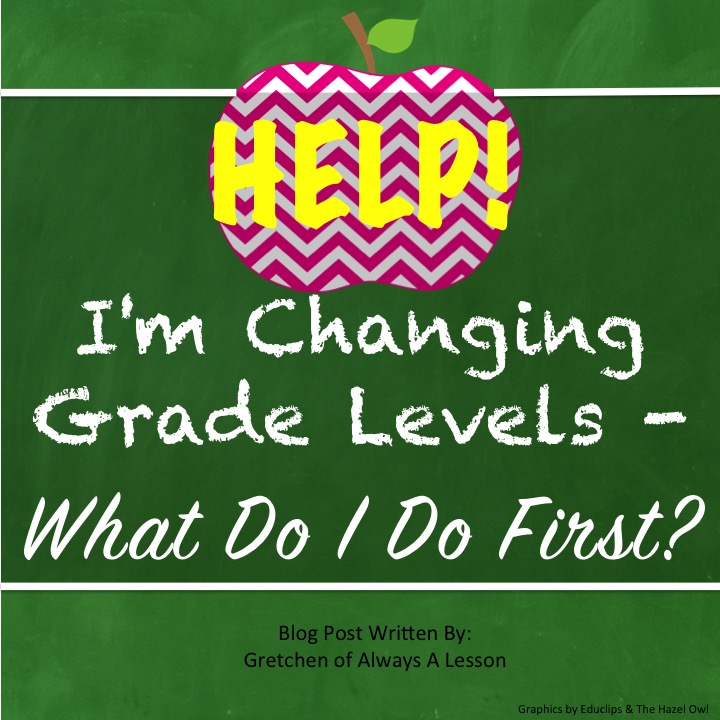 As another school year comes to a close, many administrative teams are making teacher assignment changes. Teachers are receiving the news that they will be moving to a new grade level team for the upcoming school year. Although this announcement can be devastating to some, the timing in hearing the news prior to summer break is a blessing. It allows plenty of time to rest from the stress of the current year, but also leaves time to gear up for the year ahead.
Since many teachers are breaking the k-2/3-5 or elementary/middle school planes and feeling extremely overwhelmed and unprepared, I thought it would be helpful to share some tips in how to make the most of this transition time. Don't let the stress of a new experience scare you off. You can handle this change with ease, just read below:
Print off the

standards

for that grade level. Read through them and highlight only the skill so that it stands out at a quick glance. Store the printed standards in page protectors for safe keeping due to repeated use.
Speak with an instructional coach or grade level leader to ask for a

curriculum pacing guide

. Many districts provide these to teachers to ensure they are making it through the content in the appropriate sequence and within enough time before testing. Having this guide will give you deeper insight into the year to come. (A school calendar of events would be helpful to print off as well!)
Read up on new instructional 

programs or curricular approaches

. If you are not only switching grade levels but content areas as well, this is where you should spend most of your time. The standards are an overall skill, where the curriculum is more in depth and can take some time to really wrap your head around the nitty gritty pieces. Reach out to others on your grade level team or within your school for any questions you might have.
Hone in on the first two weeks of the pacing guide/standards/curriculum to get a head start on planning. Search for

instructional materials

of the skills being taught during this time. Online collaborative groups, such as grade level specific Facebook groups, are extremely helpful in connecting with educators of that grade level who can make recommendations on the best ways to teach the standards and skills. Pinterest and Teachers Pay Teachers are other great sources for materials, but be careful to not get caught up in fun, cute looking activities unrelated to the standards.

Tour

your new classroom, grade level, and/or school. Becoming familiar with where and with whom you work will help ease anxiety. Make note of most frequented locations such as the front office, library, cafeteria, and so on. Be sure to also get updated on school wide behavior protocol and academic expectations.
You will most likely have time to plan with your team before the school year starts, but becoming familiar with what you are teaching and bringing some ideas to the table for how to teach it will save you time in the end. Besides, the sooner you get started, the more prepared you will be for a successful school year. Just eat the elephant one bite at a time. 🙂

What tips would you add to this list for a teacher in transition?
Tune in to the Empowering Educators podcast for more tips for transitioning teachers!