The Empowering Educators Podcast Turns 2!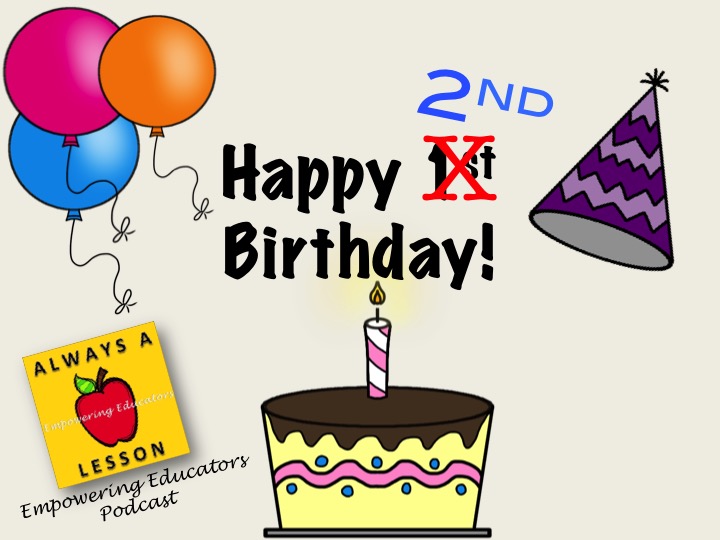 Graphics courtesy of Erin Waters
Holy Cow! I have been podcasting for two years now- can you believe it? Check out my podcast's 1st birthday blog post here.
Thanks to all of you who have supported the Empowering Educators podcast, subscribing to get weekly episodes right to your devices and leaving thoughtful reviews on iTunes to ensure it continues reaching the ears of educators near and far.
I have loved connecting with everyone and hearing your stories and struggles. I am humbled that lessons I have learned have helped you avoid obstacles and find a renewed spirit in the classroom.
Below are 5 lessons I have learned over this past year as a podcaster:
5. Labels, titles or fan clubs do not mean educators of different levels have nothing in common. Newbies and veterans can learn a lot from each other, but they also often have much in common- interests, desires, and obviously a love of education. I encourage you all to erase the fear you have of approaching an educator just because they might have a specific title or large following. You never know what one connection can do for your soul!
4. Perfect takes backseat to purpose. Sometimes I hold on recording a podcast episode because I happen to be away from my recording studio (aka my closet!), but I have realized that fans of the show appreciate timely content in authentic settings. I've learned to let go of perfect audio and record on the spot if the mood strikes me!
3. "Head. Heart. Hands." My edu-buddy Missy gave me advice when I started my podcasting journey that still sticks with me today. She reminded me that my content should connect with the audience on a cognitive level (head), but tug at their emotions (heart) and leave them with action steps (hands). Every episode is designed to connect with each of these areas in hopes its helpful and applicable to your daily life.
2. Being the first, helps others take a step. Many educators want to create a podcast, whether its for other educators or their students. By chatting with me about "behind-the-scenes" logistics leaves many educators realizing just how easy and informative podcasting can be for the profession. Anyone can do it! I am super excited to hear all of the innovative ideas educators have for creating their own podcast. (Want some ideas? Stop by the Education Podcast Network for education related shows!
1. You still love to hear about my pain! 🙂  One thing hasn't changed since I started my podcast two years ago and that is that you appreciate my pain, whether it helps you avoid that pitfall in the future, helps you connect to me personally, or encourages you to push through your current situation knowing you aren't alone. So don't worry, my pain won't be going anywhere this next season!
I cannot wait to see what the next year brings- continue tuning in each week (or binge listening in the summer) and I look forward to connecting personally with each and every one of you.
In honor of my podcast, I'll end this blog post how I end every episode…"Go out and be great because you've just been inspired!"