Creating Mental Health Supports for Teachers
The mental health of educators is in crisis right now. It is causing increased stress, decreased job satisfaction, and a mass exodus of the profession. Mental health is a taboo subject; something no one wants to talk about or admit they struggle in that area. Because of that, educators suffer silently when they could be receiving help. If educators were exposed to mental health conditions, solutions, and supports, it's highly probable teacher retention and job satisfaction would increase for the long-term. This positively impacts the success students experience in the classroom.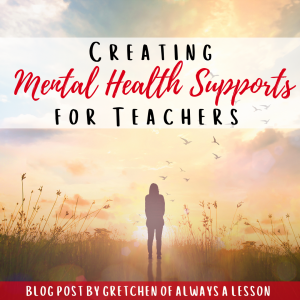 Teacher leaders can be part of a mental health awareness, prevention, and management initiative at their school sites. This post will help you develop a plan.
Better Understand Mental Health
Evaluate Mental Health Supports Available at School
Reflect on what your school currently offers to support teachers with their mental health
Decide what initiatives, programs, or supports are working and not working
Revise current offerings so that they are more effective and personalized
Design Mental Health Supports
Create a mental health team or committee to lead the charge
Get input from teachers to ensure supports meet their needs
Design a road map so teachers know how to recognize their triggers, name their feelings, and advocate for the support they need
Involve all stakeholders in the process (administrators, teachers, students, parents, and community members)
Overhaul the school culture so that everyday mental health practices are woven into how the school operates
Execute Mental Health Supports
Provide training on mental health diagnoses, triggers, solutions, etc.
Offer resources to educate and support staff with mental health
Check in on teacher mental health during all partnership opportunities (ie. professional development, professional learning community meetings, monthly mentor meetings, coaching cycles, etc.)
Pair teachers with accountability partners as a safe place to go when needing mental health support
Tips for Effective Mental Health Support
Listen more than you try to solve a problem
Be consistent in what you offer
Be honest about what supports you are able to provide and help teachers find alternative options if you cannot meet their needs the way they request
Want to know more specifics about how to support the mental health of teachers? Tune in to this Clubhouse Chat Replay with Charle Peck. https://alwaysalesson.com/episodes/ch-bonus-creating-mental-health-supports-for-teachers
Looking to bring a mental health PD opportunity to your school? Check out this Leading Professional Development Bundle to get a start on planning!
GO BE GREAT!

What mental health supports do you want schools to employ?