10 Ways to Learn Over Summer Break as a Teacher Leader
Summer is here! Being intentional with how you spend your time will ensure you are able to rest, enjoy time with friends and family, and build in some time to continue learning. As a professional, it's important to hone your craft, especially as things in education change. There are always new strategies, techniques or curriculum to become familiar with. Summer is the perfect time to carve out time each week to learn something new!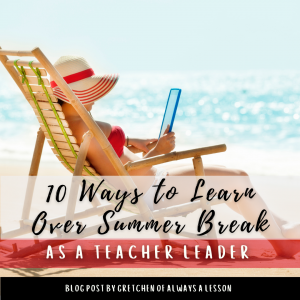 Prepare for your learning by setting some boundaries like:
Set aside time weekly
Learn in short spurts
Take notes to reference later
Grab a buddy and learn together
Now you're ready to begin the learning process. Below are 10 ways teacher leaders can learn over summer break:
Read
Listen
Podcasts– Listen to audio blogs called podcasts while you're busy on the go! (ie. Empowering Educators, Buzzing with Ms. B, Truth for Teachers, Cult of Pedagogy, Simply Instructional Coaching)
PD Videos for Licensure Credit– Earn credit towards your license by listening to professional development on the latest trends and best practices in education (ie. Professional Learning Board)
Engage
Looking for something to help you grow during the school year? Join my Teacher Leader Mastermind! You'll virtually meet twice a month with other teacher leaders around the nation. Gain knowledge and fresh ideas, broaden your perspective and grow your skillset. We'd love to have you join us. Limited spots. Grab your seat here now!
Looking for more coaching resources? Grab this MEGA BUNDLE to start planning for next year!
GO BE GREAT!

How do you learn over summer break?