6 Tips for Coaching Instructional Coaches
Instructional coaches are high performers in both instruction and leadership. Their work supporting the growth and development of teachers is why their position in education is essential. Administrators are busy crafting the vision and mission of the school while managing the operations. The teachers are the life blood of the school, making learning stick for students. The instructional coaches are the teacher leaders in the middle; they do not have their own classroom of students nor do they have to manage the operations of the school building. This means all of their time can be spent on improving both teacher capacity and student achievement. Investing in the role of an instructional coach can have an enormous impact on the long-term success of the school.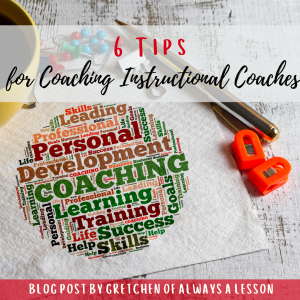 By now, many schools have added the instructional coaching role to their leadership strategy. However, instructional coaches aren't receiving much support in their own development. Instructional coaches should receive support in areas such as (but not limited to):
effective leadership practices
current best instructional practices
adult learning theory
professional development session design and implementation
instructional coaching approaches
data gathering, dissemination, and analysis
Since instructional coaches need their own coaches to aide their growth and development, schools need to think about how to provide access to various support options. It could come in the form of conferences, books, or even an instructional coach's coach- a previously high performing teacher and instructional coach. The stronger our instructional coaches become in leading others towards greatness only increases the impact of staff and students. This means, we now also have to invest in instructional coaching coaches.
Below are 6 tips to effectively coach instructional coaches.
Meet your People– Find out more about the person you're going to be supporting, rather than their job title and duties
Set the Stage– Ask questions to find out what kind of impact they desire to have in their role (ie. what do you want to accomplish, what have you already contributed and how can we build on that?)
Lay the Groundwork– Together develop the roadmap to bring those goals to fruition
Connect Regularly– Make access to support easy (phone and video calls, app chats, texting, email, etc.)
Revisit Goals and Strategy– Every few months check in on the appropriateness of goals and the success of the chosen strategies to get there (revise if necessary)
Celebrate Progress– Leadership growth can be slow and bumpy so focus on small wins along the way
Whether you have an instructional coaching coach or not, you can still grow your leadership craft. Check out all my instructional coaching and professional development resources to better equip instructional coaches and those that coach them. Or join us in the Teacher Leader Mastermind for community with others doing the same thing as you!
GO BE GREAT!

What tips would you give for effectively coaching instructional coaches?