6 Easy Steps for a Successful Back-to-School Night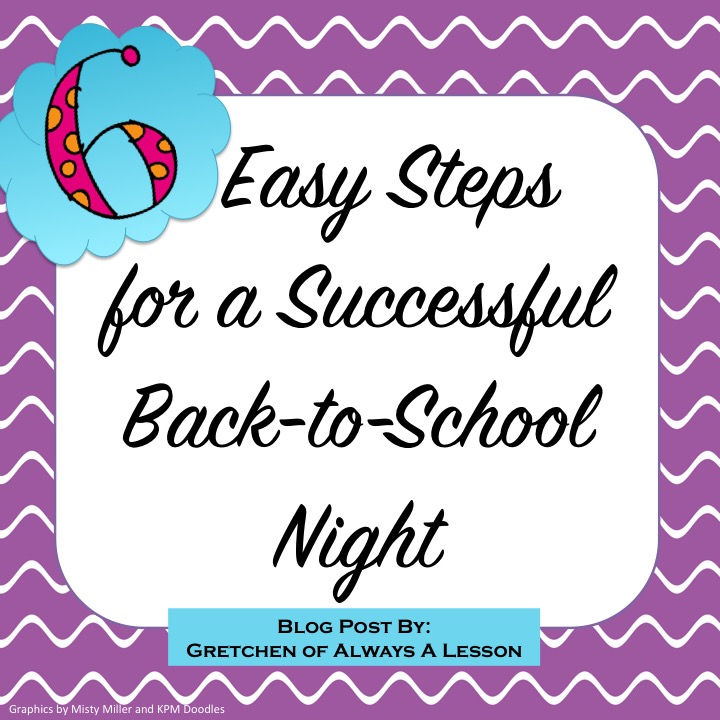 Summer is winding down and the upcoming school year is rapidly approaching. Teachers are trying to balance their time between setting up their classroom and attending professional development sessions as well as numerous meetings with school personnel.
Most schools host a "Back-to-School" night prior to the first day of school so that parents and students can meet their assigned teacher and get familiar with the location of their new classroom home. Parents generally want to get to know the teacher in terms of their approach to learning as well as swap contact details so they can communicate throughout the school year. The students, however, are super excited to see who their teacher will be and even more excited to see their classroom set-up, including the location of their desk.
For teachers, this evening causes a lot of stress. They too want to meet students and parents, but the time frame allotted for preparing a classroom is often quite short and there is a long list of tasks to be completed in order to begin the year.
In my district in North Carolina, the classrooms are shut down over the summer so the custodial staff can clean the school top to bottom. Because the floors are waxed, teachers have to disassemble their classroom set ups and push everything to the corner of the room in one large stack.  Teachers are allowed back into classrooms a week before school begins, which means they practically live in their classrooms from the moment the sun rises to the moment it sets. There is so much to do from furniture placement, classroom decor, bulletin boards, organizing instructional material storage and creating an efficient working space for the teacher's desk.
It's important for teachers to remember that parents and students are looking at the physical space only. So anything behind-the-scenes can wait until after "Back-to-School" night, such as creating student data folders, designing rules and procedures, laminating instructional materials, etc. That should take some of the pressure off the teacher during the days leading up to this magical evening. Plus anything behind-the-scenes can often be done at home after hours. So use the time in the classroom for tasks that can only be completed when physically present in the classroom.
Many teachers are unsure of what to do at a "Back-to-School" night. Oftentimes, administrators provide recommendations for what to do that evening so that it is a uniformed process throughout the school building. However, in situations where there are no particulars provided, teachers can use the list below to ensure the evening goes off without a hitch:
Have a distinct entryway to your classroom so that it's easy to find in a crowded hallway (i.e. balloon, easel, or bulletin board with teacher's name). This helps parents and students quickly find you and help the hallways from becoming a hazard.
Have a sign-in sheet near the entrance/exit of the classroom for parents to share their contact details. This is helpful if you are unable to personally speak to each parent and allows you to create an email chain rather quickly for parent communication. You can also include a take-away sheet for parents to grab with a short synopsis of major topics students will be learning as well as upcoming field trips or events.
Label each student desk with their first name. Students rush right into a classroom and begin the desk hunt trying to find out where they will be sitting. Having a designated space for them (even if it could change later) eases first day anxiety for students.
Place a welcome message on the front board with a few action steps (i.e. "Welcome parents! Please sign in at the desk near the classroom door. Take a look around the room. Stop by to introduce your child and yourself to the teacher."). This message lets parents know what to do instead of just standing around in the classroom. Keep the instructions short and simple so it's easy to read from the back of the room, where parents are most likely standing.
Share a short introductory message. If your school has a schedule to follow in order to get parents into multiple rooms if they have multiple children, you might be introducing yourself several times to a group of people. Keep the group announcement short but informative. (i.e "Welcome to third grade! I am Ms. Schultek your child's teacher. We are going to learn a lot this year and I look forward to all the exciting events planned for you to attend. If you haven't already, sign in at the desk near the door, grab the information sheet for details on the upcoming year, and stop by to chat with me personally. Feel free to come and go as you please. Thanks again for coming!").
Create a make-and-take station. Keeping children engaged is the key to an organized and efficient evening. The chaos is always brewing, so preparing a center for students to sit and work will help decrease hyperactivity in the hallways and classrooms, plus you can easily chat with parents without interruptions (i.e. coloring sheet, crossword puzzle, math card game).

What tips would you provide for teachers hosting "Back-to-School" night?