10 Ways to Prepare for the Upcoming School Year during the Summer
The summer is the perfect time to prepare for the upcoming school year.  There are 2.5 months, on average, where teachers are able to work at their own pace gathering ideas and preparing their classroom for instruction in the fall.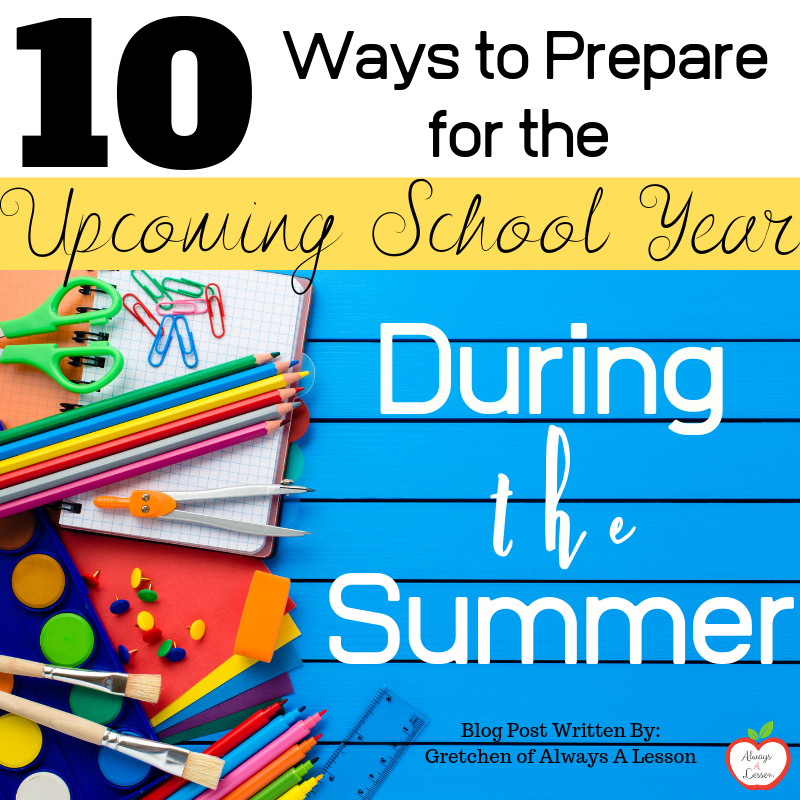 The following 10 tips are tried-and-true strategies veteran teachers use to prepare for the upcoming school year over the summer months. (And not to worry, there is plenty of time left over for vacation getaways and working second jobs.)
Upgrade Your Knowledge Base
Review standards and curriculum– It is important for any teacher to be knowledgeable in the area that they teach, regardless if they are new to the subject area or grade level. Spending time going through curriculum and standards help solidify the content ideas that are most important to get across to students. It also allows teachers time to digest information in a deeper way than before so that they can better break it down for students later.

The same method is true for reviewing your previous year's lesson plans. If you jotted down notes on your lesson plans of things that went well and things to tweak for next time, you can keep those notes front of mind as you begin to plan for the upcoming school year.
Grab lesson planning materials here.

Research instructional techniques to implement- One way to ensure you get stronger instructionally every year is to invest in professional development. An easy method to try is to read books, blogs, newsletters or just peruse the web. You can research instructional strategies and techniques in your area of weakness so that you become more proficient. Or you can hone in on your area of interest and become the master of your craft. Either way, take the time to research best practices so that you can implement them in the new school year.
Connect with other educators to create a support system- Finding a community where you can safely encourage one another while exchanging ideas that work in your classroom is a powerful way to propel your own growth. This professional learning network will encourage you to show up on hard days,  pour into others, and build relationships that last a lifetime. You will learn more from your companions than any textbook ever written so take time to build your PLN.
Devise a Plan
Plan first day of school activities – You can guarantee that the first few days of school will be spent getting to know your students and vise-versa. Therefore, you can easily plan some engaging activities that can be sprinkled throughout the first week while you build in time to review classroom procedures and safety drills (tornado, earthquake, lock down, etc.). As the beginning of the school year approaches and details are shared from your principal for what is expected on the first day of school, you can take the activities you have planned and plug them into some downtime moments in your day.

If you need some ideas, check out what I have used in my own classroom here.

Plan furniture set up- You might not be able to get into your classroom just yet (or even know how many students will end up on your final roster), but you can begin to plan furniture placement. Just ask the principal or secretary about what furniture is available in each classroom as well as the dimensions (size and shape) of the classroom itself. Once you have that information at your fingertips, you can draw up furniture placement plans so that students and yourself can easily move about the classroom and access materials. This is your chance to be an interior designer!
Write welcome letter to students- Inevitably, your principal will ask you over the summer to submit a welcome letter to students that will be mailed home with other important school information. You will want to write a letter that shares information about yourself (personally and professionally) as well as specifics of Back-to-School night and supply lists. When you are drafting your letter, keep it light and fun so students are excited to meet you and return to school.

Here is an example of the letter I wrote to my own students.
Get Organized
Organize teaching materials & student manipulatives- If you can get into your classroom over the summer, you can begin to organize your teaching materials. I used clear white bins and labels so that I could easily see what was where when I needed it. As your instructional stock pile grows year after year, you'll have to re-organize or upgrade your storage solutions. Even if you cannot get into your classroom, you can take your supplies home so that you can go through the same organizational overhaul. It might take a significant amount of time initially, but it will save you time in the long run. There is no one right way to place your items, so think about what materials naturally go together (centers, subject areas, etc.) and pile everything out on the floor. Then look at the size of the pile and match it with a storage container. Many stores have back-to-school sales when college students are heading back to campus, and you can grab a lot of those items at a discount.
Organize written materials- However you prefer to place written material together, the summer is the time to get ahead of the messy paper pile. Just like you organized physical materials above, lay everything out on the floor and place items in a pile by similarity (subject, topic, or assignment). Then secure items by paper clip, staple, hole punch, etc.
Ready Yourself
Purchase necessary items – There will be an endless amount of supplies and materials you will want at your fingertips as a teacher. The summer is the perfect time to shop around for the perfect item to compliment your teaching style and needs. Some items you will want to be on the look out for include a teacher bag, scheduler/organizer, correcting pens, student rewards, and personalized desk items. Many stores have marked down items just for teachers as the school year approaches. Take time now to decide what you want so you can spot it when it is available in stores.
Assemble your teaching wardrobe – I talk about this idea in my book Elementary EDUC 101: What They Didn't Teach you in College. Be sure to find outfits that can be versatile so that you are comfortable during direct instruction and while at recess. You will move around a lot as a teacher, so purchasing flexible fabrics is a must. Shirts should be long enough and pants should be high enough so that when you bend over, you do not expose anything inappropriate. Shoes should be comfortable to walk, run, dance, etc. Like I said, you move around A LOT. I highly suggest keeping your wardrobe simple so you can mix-and-match items to create even more outfit combinations. Go through your closet to see what you already have that follows the guidelines above. Then, make a list for what you need and want. Finally, go shop!

How do you prepare for the upcoming school year during the summer months?