10 Tips for Leading Extra Curricular Activities at your School
Leading extra curricular activities at your school is beneficial in many ways. It provides learning opportunities outside the classroom environment for students to learn and partner together. It allows teachers to showcase leadership in new, unique ways. Most importantly, it breeds community among staff and students.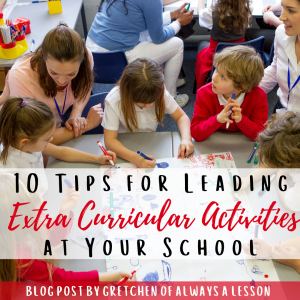 Just remember, no matter what the extra curricular activity is, focus more on the people working together. The activity is what brings everyone together, but who you become as a team is most important.
To ensure you are able to successfully lead extra curricular activities at your school, this post will highlight ten tips you can apply right away.
Get Started
Poll the audience– Find out what the students want to do, are interested in, and are motivated to be a part of
Employ your skills & interests – Think about the topic students suggested that would leverage your own skills, talents, and interests
Set the tone, not the rules– Establish the goals and vision for the group, but not the rules of getting there; that way students can help decide together how they should arrive at the goal
Gain Momentum
Build community– Focus most on becoming a functioning unit that cares about one another rather than on the task you will complete together
Gather together consistently– To ensure everyone is invested, meet regularly
Break for life lessons & life skills– Take time to detour the mission for impromptu life lessons or life skill moments
Share ownership– Get students involved in running the extra curricular activity rather than being passive audience members
Get Results
Hold everyone accountable– Each member is just as valuable as the other so treat everyone's participation as equally as important (even yours)
Celebrate the little things– Motivate students by celebrating growth and mini milestones so the hard work makes the process more enjoyable
Implement feedback– Be open to feedback from students about the progress towards goals, how the extra curricular activity is organized or operated, etc.
Learn More
Interested in learning more about teacher leadership? See the resources listed below:
Read about leading a committee at your school site here.
Read about organizing a successful assembly at your school here.
Download the PD bundle of tips here.
GO BE GREAT!

What tips can you share about leading extra curricular activities?