What is a "Teacher Leader" Anyway?
For a while, I have been using the term "teacher leader" to mean anyone who supports teachers in their development. Because that is a broad term, I thought it would be important to dig deeper into what a teacher leader is, does and the impact they have in the educational field.
What is a "Teacher Leader?"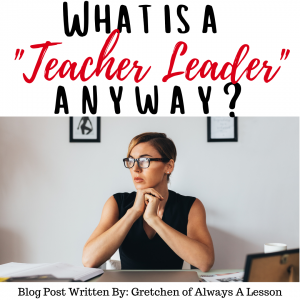 Teacher leader is an umbrella term that refers to educators in the roles such as:
Instructional Coaches
Peer Mentors
Cooperating Teachers for Student Teachers
New Teacher Induction Program Coordinators
Curriculum Coordinators
Professional Development Presenters
Content Specialists
Grade Level Leaders
Initiative Directors
Administrators
I reached out to my "teacher leader" audience to learn more about their official role title, the work they do daily, and the impact it has on our profession. (Thank you to all of the contributors!)
Rose, an instructional coach from New Jersey said, "A teacher leader is someone who is self motivated and is willing to put him/herself out there for the betterment of others. A teacher leader supports other teachers as well as acts as an advocate for students."
Danielle, a curriculum and gifted resource teacher from Florida adds, "Teacher leader is someone that cultivates a collaborative culture and supports the improvement of instructional practices and student outcomes. Teacher leaders are seen as a leader of the school and an expert in their field. Teacher leaders provide mentorship and peer support to colleagues."
I agree whole heartedly with these definitions. Although the official title of both of these teacher leaders differ, the commonalities of how they support teachers is strongly aligned.
What does a "Teacher Leader" do?
As mentioned above, the variety of roles that fall under the category 'teacher leader' is lengthy, but the common thread of these roles is supporting teacher development. These teacher leaders are working towards the same goal of improving teacher proficiency so that student achievement increases as a result.
Let's pull back the curtain on typical teacher leader duties, regardless of their official title:
Create on-going professional development sessions
Observe live teaching with classroom visits and provide feedback
Act as a liaison between teachers and administrators
Participate in grade-level lesson planning
Available to answer questions and trouble shoot obstacles
Meet 1:1 with colleagues on a consistent basis to plan, provide feedback and problem solve
Model best practices through lesson delivery
Share resources, tips and strategies for quality instruction
Plan, design and implement curriculum programs or initiatives with fidelity
Plan school-wide programs for families, staff, and students
Collect and analyze student and teacher performance data
Develop an expertise in a content area
Attend training to remain up-to-date on initiatives
Be a listening ear and encouraging voice
Why is the role of a "Teacher Leader" so important?
It is clear that teacher leaders are essential for teacher development, student achievement, and overall school success. They are veteran educators with expertise that can change the trajectory of school performance with enough time, space and collaboration with leaders at the state, district and school level.
However, many of these positions are created at school sites through special funding sources. This means, when budget constraints occur, the various roles of teacher leaders are removed. Sadly, this negatively affects the growth of teachers and students.
I asked my teacher leader audience why they thought these roles were essential and here are just a few of the responses they shared:
"A school cannot be run by a principal alone. Teacher leaders are key to building collaborative cultures that support the vision and mission of the school leader. Teacher leaders are able to facilitate professional development and foster professional growth amongst grade level or subject area teams."
"They help the administration by leading and guiding within the grade level, taking some of the pressure off of administration."
"Teacher leaders are essential because teachers are in the trenches and we know what is needed in order for our students to be successful. Teachers need advocates and people on their side."
Essentially, teacher leaders are an extension of both administration and teachers. They fill the gap from running the school at a high level overview to down in the trenches of what's going on in classrooms daily. The bridge they create between these two stakeholders is where the magic happens.
Teacher leaders:
Lighten the work load
Have their ear to the street and a close eye on the inner workings of the school
Provide clarity, direction and support for teachers and students to thrive
We can't afford to NOT afford the essential role of a teacher leader at every school. Click To Tweet
Resources for "Teacher Leader" Development
It is evident that teacher leaders are important figures in the support of teacher development. But who supports the development of teacher leaders? After all, everyone is a learner who needs guidance and support to grow.
There are three options I provide to guide teacher leaders towards excellence. These options meet teacher leaders where they are in terms of how intense of a support model they desire and how much time they want to invest in their development. It's their choice where and how to jump in:
Teacher Leader Course – A do-it-yourself model where teacher leaders can gain research-based techniques and tools to boost teacher performance and proficiency in the classroom. This is great for busy teacher leaders who need to learn at their own pace and time table.
Teacher Leader Mastermind – A collaborative model where teacher leaders learn and lead in a community of other teacher leaders. Personalized support is provided, but the power is in the group dynamic. Learn from others' struggles, roadblocks and successes.
Teacher Leader 1:1 Coaching – An individualized model where teacher leaders receive 1:1 encouragement, support and guidance. This is an intimate experience with full attention, time and investment from both myself (the coach) and the teacher leader.
A BIG *thank you* to the teacher leaders who contributed to this blog post- Paula (Texas), Jenny (Georgia), Rose (New Jersey), Amy (Wisconsin), Amanda (Arkansas), Danielle (Florida) and Angie (Texas). You teacher leaders are the real hero's in transforming schools one teacher and student at a time!
GO BE GREAT!

Are you a teacher leader? Share the details of your role below!