Supporting Teachers During Parent-Teacher Conferences
Parent-Teacher Conferences can be extremely time consuming for teachers to complete. Often times, teacher leaders step back their support during this time so that teachers can solely focus on preparing for the conferences. However, that approach isn't necessary. There are numerous ways teacher leaders can continue to support teachers without pulling back, especially during a busy season like parent-teacher conferences.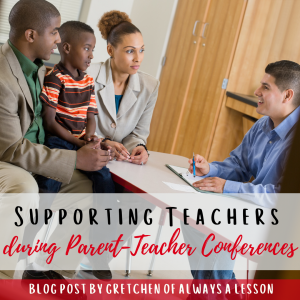 The suggestions below are ways to support teachers prior, during, and after parent-teacher conferences.
Prior to Parent- Teacher Conferences
Provide a runway of prep activities– Create a calendar weeks ahead of the parent-teacher conference window outlining tasks teachers should begin preparing and tips to be successful
Get input from teachers – Poll teachers for what they liked and disliked about past conference events and create solutions to ensure an even more successful event this year
Get students involved– Invite students to take an active role in the conference by stopping into classrooms and sharing the variety of ways they can take the lead

choosing their best work samples
setting and reviewing goals
practice presenting skills etc.

Share expectations for conference flow– Model what a successful parent-teacher conference should look like, especially if having teachers implement new elements they haven't tried before

a checklist is a good way to provide this outline too

Add a virtual option– Set-up a virtual platform that parents can log into to join in on the conference that they might have otherwise missed during the work day and share tips to make the experience just as engaging
Provide reminders to parents – Send an email to all parents announcing parent-teacher conferences, hyping up how hard students have been working to lead the conference conversation, share tips and strategies so they can get the most out of the experience, provide directions for how to access the virtual option, and let them know you are available to troubleshoot any issues that arise
Track milestones– Hold teachers accountable for accomplishing preparation tasks by providing reminders of what they should have completed and what to begin working on next

a calendar on a bulletin board in the copy room would provide a helpful visual teachers would see often
During Parent-Teacher Conferences
Check in on teachers– Be available in the hallways during conferences to assist teachers in whatever way possible
Greet parents and direct traffic– Acknowledge all school guests so that they feel welcome and guide them to the appropriate location for their conference
Set up a table for parent involvement opportunities– With so many parents entering the school building, it's a good time to ask parents to volunteer their time or donate money to help the school become it's best
Refuel tired teachers– provide inspiring words and a special treat in teacher mailboxes during the long days of conferences
After Parent-Teacher Conferences
Co-create action plans– Meet with teachers to create ongoing support plans for students to track their progress and catch difficulties quickly (this can also be shared at the next conference)
Survey teachers for feedback– Ask teachers to share their experience with you so you know how to better help them in the future
Thank parents– Write an email to all parents extending gratitude for their participation and pride for how the children stepped up to lead the conference
As you can see there are many tasks you can do behind-the-scenes to support teachers during the busy season of parent-teacher conferences. Although you might not complete coaching cycles, you can still have an impact by providing structure and expectations for the event.
Grab all of the resources mentioned in this post at a discount here.
Looking for even more coaching resources? Check out this MEGA BUNDLE!
GO BE GREAT!

What ways can you support your teachers during parent-teacher conferences?
Get access to more instructional coaching resources and professional development resources below: