How to Implement an Efficient Classroom Library Routine in 5 Easy Steps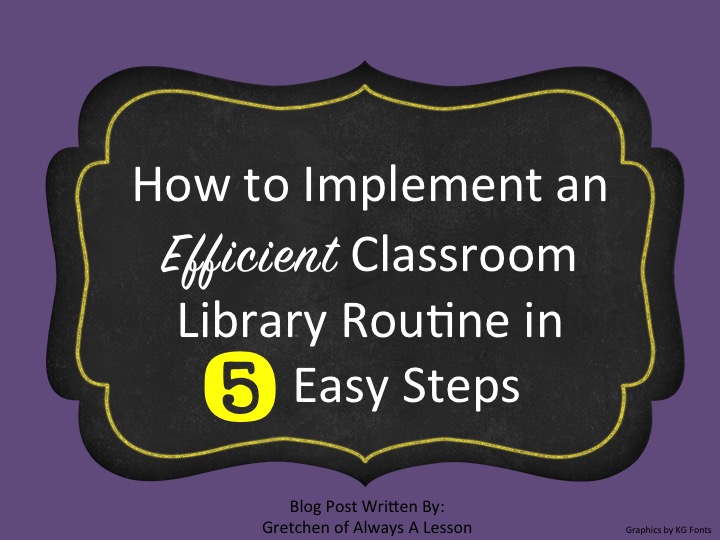 Most teachers have a section in their classroom that contains books for children to read, whether for academic learning purposes or pleasure. However, the majority of these teachers struggle to utilize this space in an organized, efficient manner. As a result, books are lost or ruined and students miss out on reaching their potential through a variety of reading experiences.
Don't let this be your story.
As a classroom teacher, you have the opportunity to reach kids through numerous authors' words. These authors have traveled the world and are sharing adventures and information in ways you cannot. So, invest in your students by supplying them with worthwhile books in a worthwhile way.
Follow these 5 easy steps below for an efficient classroom library routine:
Create a Book Nook & Decorate it-

Location- Find a spot in your classroom where you can not only store books for students to read, but students can also sit nearby and enjoy their book.
Supplies- Your school often will supply furniture, like book shelves, that you can use to store books. Some schools even supply books. If you are not so lucky, ask family and friends for gently-used books, reach out to your local library for books they no longer need, shop discounted book bins at nearby stores or you might even write a grant for funding to be used towards classroom library books. If you want to create a super cozy space, feel free to add pillows, rugs, lamps, etc.

Organize Books – There are a variety of ways to organize books in your classroom library depending on the purpose behind students reading.

Purpose- Some ideas include organizing books by genre, author, topic, or theme/message. However you decide to separate books, be sure to make the categories are clearly labeled and separated by using tape dividers, book baskets, or separate shelving.

Genre is a great place to start as students begin to recognize the difference between book genres and their specific features. Examples include: fiction, non-fiction, biography, action, fairy tale, mystery, etc.
Author studies allow students to get to know an author's style, characters, and voice. (This pairs well with a writing unit when helping students create their own multiple works with similar features.) Want a list of favorite third grade authors? Snag this freebie here!
Bring in other content areas, like Social Studies or Science, to study a particular topic by a variety of authors. Examples include: mammals, historical figures, holidays, etc.
Themes can be tricky for students to grasp at first, but by seeing how authors portray a similar message in a variety of ways helps students recognize themes in their own reading successfully. Examples include courage, freedom, prejudice, etc.

Display- Once your books are organized, you might also want to display suggested books along top of your book shelves for easy viewing. These could be books you are featuring in your read aloud that week, your own teacher favorites, or even new books being added to the library. Think of your classroom library as a retail space for students to peruse. Entice, entice, entice!
Input- I highly suggest having students weigh in on their favorite books located in the classroom library. I created a "Book Buzz" book report one-pager to display on a bulletin board in my classroom library where students persuaded their peers to read their favorite books. They included a book summary, illustration, personal recommendation, and overall star review. Kids LOVED to see what their peers were reading and what they had to say about it. Check it out here!

Check-In/Check-Out System – Be sure to have clear routines about how to use the library so that the process is seamless so as not to disturb instruction. Decide three things: who, when, and how. 

Who can check out books? Can all students check out books or just a certain group of students? With a large class size and short literacy block, you might consider placing a schedule in the classroom library designating certain days of the week to certain groups of students (ie. Mondays = Group 1).
When can students check out books? Can students check out books any time or are there designated time slots students can browse books? I always had students check out books the first and last 5 minutes of class so that the majority of the literacy block was spent reading or attending small group instruction.
How should students check out books? Do students need to fill out a form to get a book or can they remove books at their will? You will want to decide how you want to track the movement of classroom library books. Such a system avoids lost books due to increased accountability; however, a paper system can be time consuming and ineffective if not used consistently or without follow-up. Will you check daily/weekly for books not returned? What happens if a student loses a book or checks it out too long? Think through how flexible you will or will not be and the ramifications of that decision. You can always start more structured and loosen up as you figure out what system works best, but it is harder to start out without a heavy fist and suddenly shift gears.

Set & Model Expectations- Teach students the procedures for checking out books and reading in the classroom library area by modeling what it looks and sounds like. When opening the classroom library, explain the rationale for the space, the purpose for proper use, and then model what it looks like to benefit from such an amazing place of learning. Once students know the expectations and have seen you model proper behaviors, have students re-enact procedures over and over and over. (I even suggest re-rolling out procedures and expectations after long breaks from school as a reminder for students.) It is easier to catch misunderstanding early rather than trying to fix it once its underway.
Use Praise & Rewards- Find kiddos measuring up to the standard and shout them out for a job well done. This example will motivate that particular student to continue making good choices and encourage the other students to meet expectations consistently. A fun twist would be to have a picture frame at the opening of the classroom library space with a student's photo who was "caught" meeting these expectations consistently. This star student can be famous for a day or week in celebration of their scholarly efforts. This praise ends up being such a simple, affordable reward!
Now that you know 5 simple secrets to an efficient classroom library routine, get to work implementing it!

What tips would you add to make an efficient classroom library routine?