Onboarding: How to Support a New Hire at your School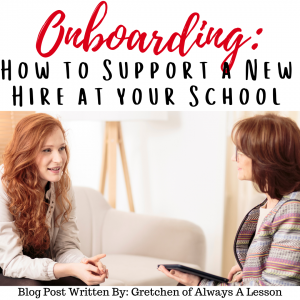 Great teachers will remain in the field of education if they are supported. One way to do this is through onboarding.
One of the duties for teacher leaders, specifically instructional coaches, is onboarding new staff to the school. This means that the teacher leader is in charge of helping that new hire acclimate into the school- understand protocols, requirements and culture.
In order for onboarding to be a success at a school site, teacher leaders need to develop a process. This ensures consistency across the board, no matter how many new hires come into the system or which teacher leader heads the process. An onboarding process guarantees all staff dive into their roles well informed.
Below are tips for developing a successful onboarding process to support new hires:
Collect Onboarding Information
Make a list of all the essential information someone new to the school building would need and want to know (calendars, maps, schedules, supply access, etc.)
Poll teachers for what information they found helpful (or wish they had been given) when they joined the staff
Host a meeting with the administrative team and decide what other information should be shared with new hires
Create a Fool Proof Onboarding System
Organize the information gathered into topics and sub topics
Flush out all topics to be as explicit and specific as possible (similar to the thoroughness of a sub plan)
Develop a checklist of tasks so all teacher leaders can jump in to help with the onboarding process as necessary
Share with the administrative team for feedback and approval
Save in a location where all teacher leaders have access (ie. Google Drive, school based hard drive, or printed in a binder located in the front office)
Deliver Onboarding to New Hires
Gather all new hires together for an informal Q/A session
Provide printed copies of the onboarding tool kit (ie. handbooks) to all new hires
Walk through the tool kit item by item, sharing details and rationales
Answer all new hire questions
Update Onboarding Materials
Reflect on the effectiveness of the onboarding process and materials set up before making changes
Use common questions from new hires to tweak current onboarding materials
Update onboarding materials as often as necessary so details are current (ie. quarterly, yearly, etc.)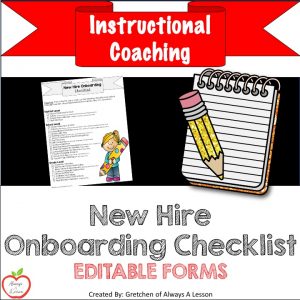 This proven system will ensure every new hire is prepared to be the best educator possible because of the time invested in a smooth transition for all staff members joining the school team.
Grab your printable, editable and digital New Hire Onboarding Checklist here. If you need other instructional coaching forms, grab the bundle of over 100+ pages here.
GO BE GREAT!

What do you include in your onboarding system for new hires?