How to Prepare as an Instructional Coach
If instructional coaches want to be successful in impacting teacher proficiency and student achievement in the classroom, they have to prepare. Just like teachers write lesson plans by studying and researching content, instructional coaches study too. They take notice of the habits of those they mentor. They research teaching best practices to model and develop in teachers.
This is the second post in the Instructional Coaching blog series. Last post we talked about how to plan and manage coaching cycles. Today we will address the behind-the-scenes tasks of an instructional coach before you dive into those coaching cycles.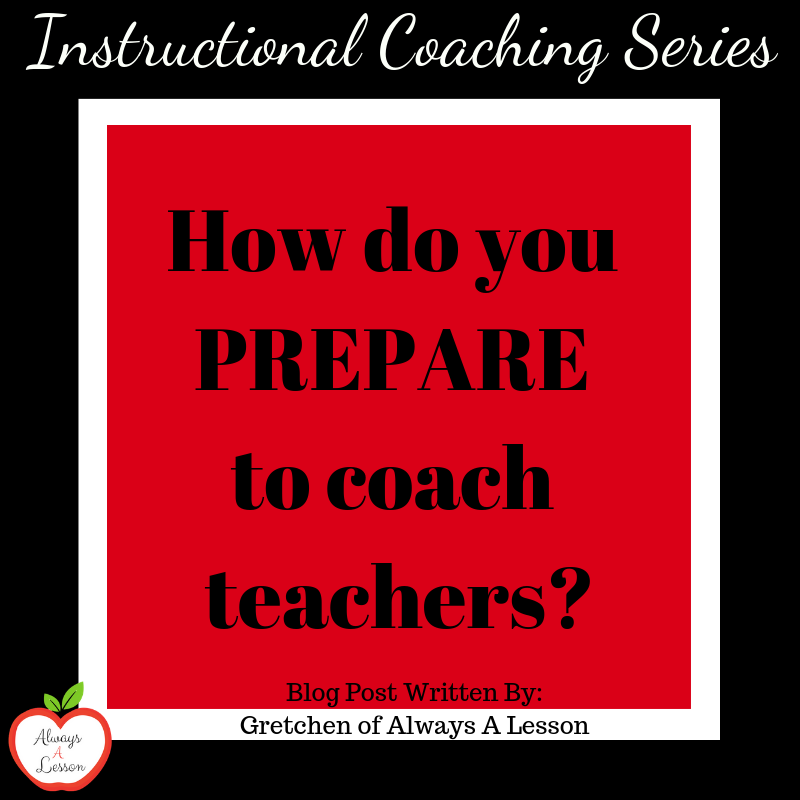 Prepare by Getting to Know Your Teachers
Relationships matter. In fact, they are the only way to sustain impact in the field of education. So much of what is done in classrooms every day is built on the formation of strong relationships. If teachers don't connect with their students as people first, they will never be able to deliver lessons specific to the needs, interests and capabilities of them.
The process is the same for colleague-colleague relationships like that between an instructional coach and a teacher. Getting to know those that you will serve is of utmost importance. You need to find out their likes, dislikes, what motivates them, what inspires them, etc. These details might seem unimportant in moving the instructional needle in the classroom, but it is the only way to connect as people first so that trust can form. When trust forms, teachers are more open to coaching suggestions and more willing to put the strategies and techniques into action. This occurs because they feel understood and their best interests are in the minds of those that lead them.
Take Action Tip:
A simple way to get to know the teachers you will support is through a survey where they rate themselves on a scale of 1-5 on teaching best practices. This helps you as the coach know the perspective of how teachers see themselves, areas they acknowledge for improvement, and areas of expertise where they can help you lead professional development to help their peers improve. By asking teachers for this feedback, you are saying "I care about you because I want your opinion on how to best help you." Allowing teachers to be part of their own growth and development continues building trust in your relationship.
Once you have the survey data, you can easily set up a teacher support roster as a place to organize who you support and list out their unique needs for reference.
Prepare by Letting Your Teachers Know How You Can Help
The role of instructional coach is still very new to many schools. Setting expectations for how the partnership works is vital for the support system to be successful. By this point, teachers have opened up to you in their performance survey and now it's your turn to be an open book in return.
Take Action Tip:
Bring clarity to teachers about who is available in the school building to support their development by creating a teacher support system chart. This chart outlines the role and duties of each of those people and encourages teachers to take action in getting the assistance they need.
Next, bring clarity to the colleague – colleague relationship as teacher and coach. Create a Teacher-Coach role descriptors chart that explains what is expected of each person in the partnership. This will ease anxiety and clearly outline each other's roles and responsibilities. Accountability will become transparent, allowing collaboration to come to fruition.
Then, develop a menu of support so that teachers know exactly what type of support you can offer. Sometimes teachers know they need help but struggle to express what they need. By providing a menu of options to choose from, the teacher is more likely to reach out for help.
Lastly,  create a coaching plan with tools to get organized in your work space and develop a clear instructional strategy to help teachers. This could include getting a calendar set up to work with teachers and complete other required daily tasks, design a newsletter full of teaching tips and instructional strategies, and implementing a two-way communication tool to ensure you are available to help teachers when they need it most.
Prepare by Setting Your Teachers Up for Success
The most effective support systems involving coaching roles are personalized. Although there are particular state or school goals for teachers to meet, teachers have their own goals as well. When a coach knows their teachers personally and provides a variety of ways to support their development, the opportunity for success skyrockets. Coaches are considered 'highly effective' when they can take a common goal for the entire staff and personalize their support based on teachers' unique needs to help them reach that common goal.
Take Action Tip:
Begin by meeting with each teacher individually. This is a good time to review the data from the survey to gain any additional details and insight into how to best help that teacher improve.
Now, together, you can begin to set goals. If a teacher is going to be expected to increase their instructional performance, you have to help them narrow down areas of growth to focus on. After you set these goals, you can also set up parameters to track data in support of those goals.
Putting It All Together
The role of a coach can be an exciting tool to move teachers along the proficiency spectrum. But, if the role of the coach is not implemented with intention, then the tool becomes an obstacle instead of an asset. Coaches can follow the simple 3 part system to launch a successful partnership with teachers: get to know them personally and professionally, share specifically how you can help support their development, and set them up for success long-term by setting clear goals.
Are you looking for more instructional coaching materials to better support teachers?
Check out the next blog posts in the coaching series here:
You can also get a high-level overview of tips for new instructional coaches through this blog post here.

How do you launch a coaching support system at your school site?