How to Lead a PD Huddle at your School Site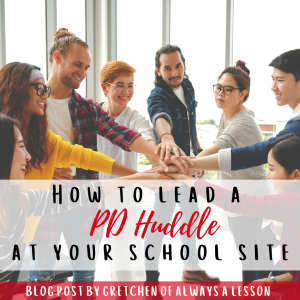 PD huddles are one of many ways to engage teachers in learning opportunities. Sitting passively in a professional development (PD) meeting is wasting stakeholders' time. As teacher leaders, we have to create learning opportunities for teachers that are engaging, but that also translate to more effectiveness in the classroom. This method will increase motivation, buy-in and implementation of learning to support the growth and development of teachers.
What is a PD huddle?
A small group of people (i.e. a grade level or subject area) standing together in a huddle collaborating over a learning opportunity (PD). It is used as a micro learning opportunity (15 minutes or so) that teachers can digest quickly and implement immediately.
Why use a PD huddle?
Break up a lengthy PD session that is disengaging and overwhelming with information by offering short spurts of learning that is highly collaborative. This is easier for teachers to manage in their daily schedule and within their brain capacity. The format motivates teachers to be present and fully understand a concept before trying it without giving up excessive amounts of time in their day. An increase in teacher participation turns into increased motivation and results in higher percentage of implementation of learning. This will yield a stronger return of teacher growth and development which impacts student achievement.
How do you implement a PD huddle?
Decide what topics you want teachers to learn more about
Create a PD huddle schedule
Design the protocol to follow during the PD huddle
Roll out the learning opportunity to teachers with a demo and practice session
Teachers participate in a PD huddle on their own
Follow-up with a teacher representative
Provide feedback and tips or revise protocol if necessary
Repeat monthly
Next Steps
Want to hear about other alternatives to professional development for teachers? Tune in to the replay of a Clubhouse chat with instructional coaches here.
Grab this downloadable guide to help you implement your PD huddle at your school

What will a PD huddle look like at your school site?
Get access to more instructional coaching resources and professional development resources below: