How to Become an Effective Team Member
Becoming an effective team member is the greatest way to increase teacher proficiency and student achievement. By working on our ourselves, we uplift the value of the entire group. This then increases the impact we all have on students in the classroom.
The effectiveness of a team is in the quality of the team members. Click To Tweet
Requiring educators to work together effectively ensures the level of instruction occurring across a given grade level in a school building is of similar caliber. Otherwise, a disparity is created that negatively affects students all depending upon which classroom they are placed in.
An Educator's Perspective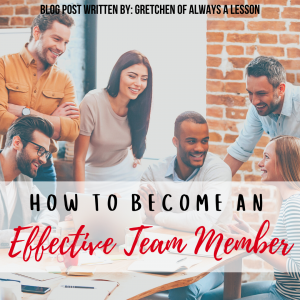 Becoming an effective team member should be a top priority for every school in the nation.
"I feel like it's actually a serious problem. Because teaching used to be such an individual sport and now its a team sport. People are not trained to play as a team and so I feel like I've seen so many people not thrive because they do not know how to work together effectively as a team.Their training guided them to be so individualistic. Use your time and teammates more effectively. And your job will be easier."   – Kristen Moore (Educator and creator of Nashville Littles)
Effective Team Member Habits
There are daily habits educators can develop so that they can remain an effective team member.
Contribute – Share your ideas, ask clarifying questions and showcase your talent
Listen – Digest what others are saying and if you disagree, share your rationale respectfully
Validate – Acknowledge good ideas and contributions by other team members
Celebrate – Take time to celebrate forward momentum in reaching goals or completing tasks
Become An Effective Team
A team's strength is an ongoing muscle to be exercised. The dynamics of a team change as new members are added, previous members transition out and members themselves grow in their own learning. As a result, calibrating the effectiveness of a team should be an ongoing focus and task.
Create Goals – Decide what you want to accomplish as a team
Develop Norms – Write a list of expected behaviors as team members
Be lifelong learners – Grow your skillset on an ongoing basis
Hold each other accountable – Require each other to hold up their end of the bargain for the greater good of the group
Next Steps
If you feel you could benefit from personalized support with team dynamics and collaboration, book a team call. We'll uncover road blocks and create a roadmap towards success!
If you're ready to continue learning and growing your craft, peruse other professional development opportunities here.
Go Be Great!

How do you plan on becoming a more effective team member?