CH Bonus: Ditch the Overwhelm- Right Size PD for Teachers
This bonus episode that first aired on the Clubhouse app within the Instructional Coaching Club. This chat focused on creating prioritized, aligned PD options for teachers that ends in results instead of overwhelm. Tune in to this Clubhouse chat with co-host and literacy leader Lori Poole!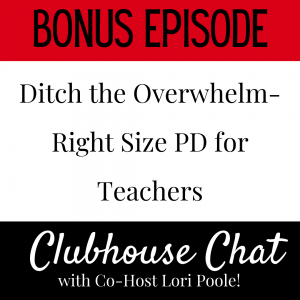 Quotables
What is our one cohesive goal?
It's not one more thing, it's the one thing
I don't have to add another plate- I already have a plate and am adding seasoning to it
The way we have done PD in the past… is not translating to better practice in classrooms
Wet their appetite before coming to to the learning session
Giving voice and choice is one way to avoid overwhelm
You don't have to be a leader in every single moment
Provide small increments of learning so they can level up
Stamp of Approval
Join the Live Convo on Clubhouse
Connect with Lori
Connect with Gretchen
Leave a Rating and Review:
This helps my show remain active in order to continue to help other educators remain empowered in a career that has a long-lasting effect on our future.
https://itunes.apple.com/us/podcast/always-lessons-empowering/id1006433135?mt=2
Search for my show on iTunes or Stitcher.
Click on 'Ratings and Reviews.'
Under 'Customer Reviews,' click on "Write a Review."
Sign in with your iTunes or Stitcher log-in info
Leave a Rating: Tap the greyed out stars (5 being the best)
Leave a Review: Type in a Title and Description of your thoughts on my podcast
Click 'Send'