CH Bonus: Creating a Soft Impact with Teachers
At this time of the year, teachers are pretty worn out and it's time for teacher leaders to take actions and make an impact! We invited multiple instructional coaches to talk about their ways to assist teachers in their professional development. One thing they all agree on, is that teachers need partnership instead of normal coaching cycles. They need a helping hand instead of pushing one. Tune in to this replay of an impactful clubhouse chat to find out more detailed methods to revitalize our teachers!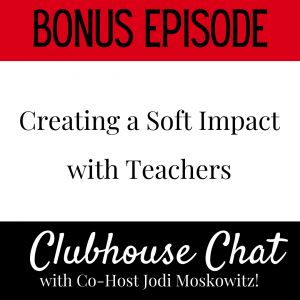 Quotables
Just let people know they are appreciated when they are pretty drained.

A lot of times as teacher leaders, we feel like we have to be super strategic, but sometimes we just need to be human.

Be relevant, be visible, and continue the work we are doing without being in their (students' or teachers') face.

(A softer impact) doesn't mean that we are weakening our impact, we are attacking from a new angle, a way that respects the stress and overwhelms.

You'd hate to make a teacher think he/she had accomplished nothing at the end of the year. It's time to re-establish your expectations.

Sometimes we kind of jump from thing to thing, but a deep dive into what we do can be really helpful.
Join the Always A Lesson Newsletter
Join

here

and grab a freebie!
Connect with Guests:
Jodi- TW: @jodimos
Becky- Schoolhouse Mentoring FB Group, IG: Schoolhouse Mentoring
Connect with Gretchen
Leave a Rating and Review:
This helps my show remain active in order to continue to help other educators remain empowered in a career that has a long-lasting effect on our future.
https://itunes.apple.com/us/podcast/always-lessons-empowering/id1006433135?mt=2
Search for my show on iTunes or Stitcher.

Click on 'Ratings and Reviews.'

Under 'Customer Reviews,' click on "Write a Review."

Sign in with your iTunes or Stitcher log-in info

Leave a Rating: Tap the greyed out stars (5 being the best)

Leave a Review: Type in a Title and Description of your thoughts on my podcast

Click 'Send'