97: Change your Classroom Mirror
The end of the year doesn't have to be dreaded by students and teachers alike. It can be positive and loads of fun with the right perspective. As adults we can unknowingly convey our attitudes to young minds, exposing them to stress they don't need to be privy to yet. Tune in to hear what frustrated, overworked educators can do to protect their students from experiencing adult stressors.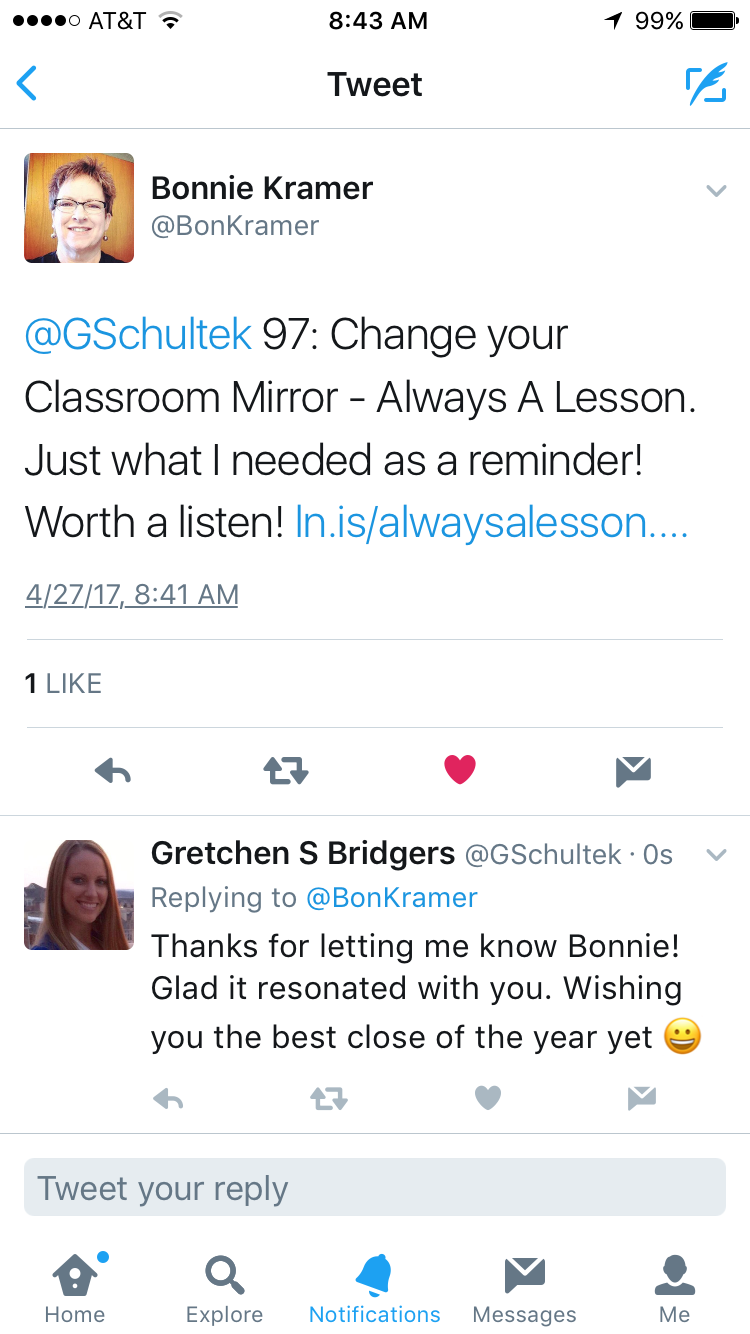 Quotables
Protect your students from your adult stressors
We are appointed to breathe life into our future
If are so consumed with just surviving we aren't inspiring them to new heights- we are putting a ceiling on their growth
They will rise if you rise
Connect with Gretchen
Email: gretchen@alwaysalesson.com
Blog: Always A Lesson
Facebook: Always A Lesson
Twitter: @gschultek
Instagram: Always.A.Lesson
Linkedin: Gretchen Schultek Bridgers
Google+: Gretchen Schultek Bridgers
Book: Elementary EDUC 101: What They Didn't Teach You in College
Leave a Rating and Review:
https://itunes.apple.com/us/podcast/always-lessons-empowering/id1006433135?mt=2
Why?
This helps my show remain active in order to continue to help other educators remain empowered in a career that has a long lasting effect on our future.
How?
Search for my show in iTunes or Stitcher.
Click on 'Ratings and Reviews.'
Under 'Customer Reviews,' click on "Write a Review."
Sign in with your iTunes or Stitcher log-in info
Leave a Rating: Tap the greyed out stars (5 being the best)
Leave a Review: Type in a Title and Description of your thoughts on my podcast
Click 'Send'