281: What to do When Best Practices Change
Change is inevitable- especially within the world of education. What is an educator to do when everything they have learned to be good and right is now thought of to be wrong and bad practice? Tune into this episode and listen as Gretchen shares with you five practical tips of what to do when best practices change.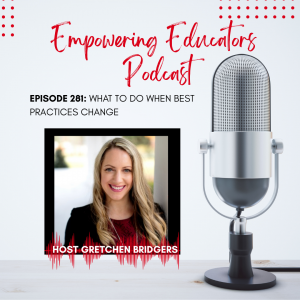 Quotables
We can't be upset with ourselves for doing what we were told to do.
Research is going to continue to evolve.

 

What is a disservice is when we continue to do what we know is not a best practice.

 

Change is going to come. It always does.
Come Chat on Clubhouse!
Join the Always A Lesson Newsletter
Join here and grab a freebie!
Connect with Gretchen
Leave a Rating and Review:
This helps my show remain active in order to continue to help other educators remain empowered in a career that has a long-lasting effect on our future.
https://itunes.apple.com/us/podcast/always-lessons-empowering/id1006433135?mt=2
Search for my show on iTunes or Stitcher.
Click on 'Ratings and Reviews.'
Under 'Customer Reviews,' click on "Write a Review."
Sign in with your iTunes or Stitcher log-in info
Leave a Rating: Tap the greyed out stars (5 being the best)
Leave a Review: Type in a Title and Description of your thoughts on my podcast
Click 'Send'