Get to know Gretchen a little bit more! You'll enjoy this special Q&A episode with Gretchen. Learn about her biggest triumphs, mistakes, holiday favorites and teacher lounge must haves. You'll get to know Gretchen all while leaving empowered.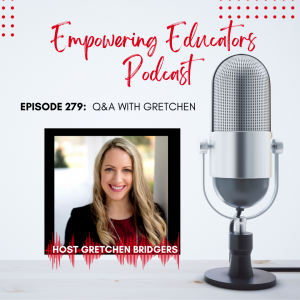 Quotables
Let me help you figure out a way it can work for you in your classroom so that all students can be successful.

It's going to be okay. Even on your worst day you didn't ruin a kid's life.

Kids are going to have a hard time connecting with you if you're just trying to be perfect.
Links from the episode:
Teach Like a Champion- https://amzn.to/3Ac2aEw
Get Better Faster- https://amzn.to/3GeqhGx
Harry Wong- https://amzn.to/3O3cUee
Essential 55- https://amzn.to/3E6ffR8
Move Your Bus- https://amzn.to/3GbqoTm
End of Molasses Classes- https://amzn.to/3hFCfim
Excellent 11- https://amzn.to/3DYerxC
Come Chat on Clubhouse!
Join the Always A Lesson Newsletter
Join here and grab a freebie!
Connect with Gretchen
Leave a Rating and Review:
This helps my show remain active in order to continue to help other educators remain empowered in a career that has a long-lasting effect on our future.
https://itunes.apple.com/us/podcast/always-lessons-empowering/id1006433135?mt=2
Search for my show on iTunes or Stitcher.
Click on 'Ratings and Reviews.'
Under 'Customer Reviews,' click on "Write a Review."
Sign in with your iTunes or Stitcher log-in info
Leave a Rating: Tap the greyed out stars (5 being the best)
Leave a Review: Type in a Title and Description of your thoughts on my podcast
Click 'Send'