217: Bonus Edition- Interview with Kelly Jackson
Kelly taught for 6 years in the elementary classroom- 2nd and 3rd grade. During that time she loved teaching and encouraging her kiddos but found that her strength as a teacher really was in the area or organization. In 2016, she started her blog, The Simply Organized Teacher. Shortly after launching that blog, she launched a podcast Simply Teach. In 2018, she left the classroom to move abroad (Germany) for her husband's job. Since then, she has been working with busy and overwhelmed teachers to help them get their systems and routines in place so they can have organized classrooms that allow them to focus on teaching their kids.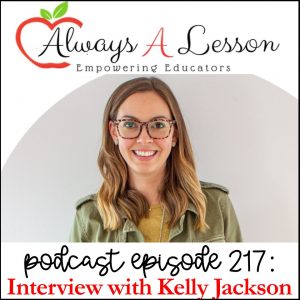 Quotables
When you can have a clutter-free classroom and an organized space to come in to, routines that your kids know the expectations for, it brings down that level of stress for the teacher.
I have learned the importance of always being willing to grow because when you are no longer willing to learn more or grow more, I think you have kind of ended your time in the education field.
I think as a new teacher it is really important to just pick one or two things that you are really going to focus on this year and get really good at those things before trying to add other things. You are going to have time to improve.
When I ask teachers, what's your biggest struggle, it's always time and I think organization helps give you back some of that time.
This episode is sponsored by Power School/Schoology's Time for Teachers initiative.
Connect with Kelly
Connect with Gretchen
Email: gretchen@alwaysalesson.com
Blog: Always A Lesson
Facebook: Always A Lesson
Twitter: @gschultek
Instagram: Always.A.Lesson
Linkedin: Gretchen Schultek Bridgers
Google+: Gretchen Schultek Bridgers
Book: Elementary EDUC 101: What They Didn't Teach You in College
Shop AAL Swag
Join the Always A Lesson Newsletter
Coaching Call
Leave a Rating and Review:
https://itunes.apple.com/us/podcast/always-lessons-empowering/id1006433135?mt=2
Why?
This helps my show remain active in order to continue to help other educators remain empowered in a career that has a long lasting effect on our future.
How?
Search for my show in iTunes or Stitcher.
Click on 'Ratings and Reviews.'
Under 'Customer Reviews,' click on "Write a Review."
Sign in with your iTunes or Stitcher log-in info
Leave a Rating: Tap the greyed out stars (5 being the best)
Leave a Review: Type in a Title and Description of your thoughts on my podcast
Click 'Send'