216: Bonus Edition- Interview with Mandy Rice
Teach On A Mission is a company Mandy built to help teachers build sustainable classrooms so they can stay there longer. After ten years in the classroom, she's now dedicating her time to helping teachers flip their classrooms so they can confidently get through their calendar and do more than lecture in class. She's supporting AP Psych teachers in her monthly coaching membership, and elevating teachers as the experts in the field of education.  Mandy lives outside of Cincinnati, Ohio with her husband, who is a high school principal, and her three boys, all 6 and younger. In her free time, she's coaching her sons' baseball teams, crafting in her craft room or snuggled up with a good book.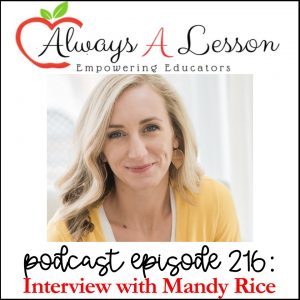 Quotables
The "it factor" is a teacher's mindset on how effective they believe they can be, with a healthy dose of reality as well.
Hustling until you make it is not something that is going to keep someone in the classroom longer. It is finding that healthy balance between knowing what you can control and how you can be effective but also knowing what you can't control and burning yourself out.
I did some research to find how I could increase student accountability in my room while providing more time to do something different than just lecture and that is what landed me on the flipped classroom.
99% of my students get 99% of the content and I don't think you can say that about a traditional non-blended, non-flipped classroom.
This episode is sponsored by Power School/Schoology's Time for Teachers initiative.
Stamp of Approval
Connect with Mandy
Connect with Gretchen
Email: gretchen@alwaysalesson.com
Blog: Always A Lesson
Facebook: Always A Lesson
Twitter: @gschultek
Instagram: Always.A.Lesson
Linkedin: Gretchen Schultek Bridgers
Google+: Gretchen Schultek Bridgers
Book: Elementary EDUC 101: What They Didn't Teach You in College
Shop AAL Swag
Join the Always A Lesson Newsletter
Coaching Call
Leave a Rating and Review:
https://itunes.apple.com/us/podcast/always-lessons-empowering/id1006433135?mt=2
Why?
This helps my show remain active in order to continue to help other educators remain empowered in a career that has a long lasting effect on our future.
How?
Search for my show in iTunes or Stitcher.
Click on 'Ratings and Reviews.'
Under 'Customer Reviews,' click on "Write a Review."
Sign in with your iTunes or Stitcher log-in info
Leave a Rating: Tap the greyed out stars (5 being the best)
Leave a Review: Type in a Title and Description of your thoughts on my podcast
Click 'Send'