215: Bonus Edition- Interview with Kristin McKeown
Kristin McKeown is a mindfulness teacher, educational consultant, and coach. She helps educators integrate meditation and mindfulness into their daily lives so they can be at their best for their students, colleagues, and families. As founder and CEO of TeachingBalance, Kristin integrates her experience as a meditation teacher with her 25 years in public education to offer straightforward strategies, humor, and encouragement for teachers ready to prioritize their self-care.
Join her  FREE 21 Day Daily Meditation Program for Teachers!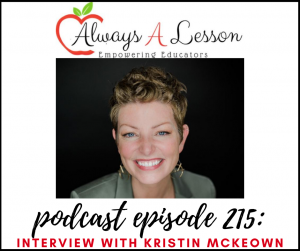 Quotables
The reluctant readers were the ones where, if I could just find that book, I just loved turning them on to reading for fun and showing them that there were so many books out there that they didn't even know about that are accessible and that were going to engage them in a way that, for whatever reason, reading hadn't prior.
I think there is something to be said for just savoring any kind words or feedback that any of your students or colleagues can ever give to you.
Be very kind and accepting and compassionate towards yourself in whatever is going on for yourself.
Slow down and give yourself a rest. We all know what it is like to come back after summer and you are so well rested and so energized and so ready to go. Are there ways that you can build that in?
This episode is sponsored by Power School/Schoology's Time for Teachers initiative.
Stamp of Approval
Connect with Kristin
Connect with Gretchen
Email: gretchen@alwaysalesson.com
Blog: Always A Lesson
Facebook: Always A Lesson
Twitter: @gschultek
Instagram: Always.A.Lesson
Linkedin: Gretchen Schultek Bridgers
Google+: Gretchen Schultek Bridgers
Book: Elementary EDUC 101: What They Didn't Teach You in College
Shop AAL Swag
Join the Always A Lesson Newsletter
Coaching Call
Leave a Rating and Review:
https://itunes.apple.com/us/podcast/always-lessons-empowering/id1006433135?mt=2
Why?
This helps my show remain active in order to continue to help other educators remain empowered in a career that has a long lasting effect on our future.
How?
Search for my show in iTunes or Stitcher.
Click on 'Ratings and Reviews.'
Under 'Customer Reviews,' click on "Write a Review."
Sign in with your iTunes or Stitcher log-in info
Leave a Rating: Tap the greyed out stars (5 being the best)
Leave a Review: Type in a Title and Description of your thoughts on my podcast
Click 'Send'