213: Bonus Edition- Interview with Erica Terry
Erica Terry is a 17 year educator, who currently serves as a professional learning consultant and coach committed to empowering co-teachers to build collaborative relationships  and transform instruction in inclusive classrooms to meet the needs of all students. In addition to her role as a consultant, she also is an edupreneur and host of the Classroom to CEO Podcast, where she equips educators to build an online business and create multiple streams of income. While empowering educators to create a life they love embodies her professional passion, her husband, Melvin and daughter, Eva are the driving force and greatest blessings in her life.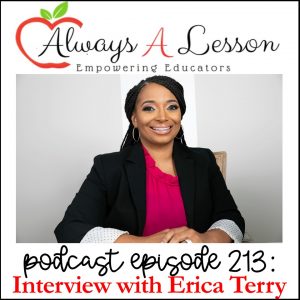 Quotables
At every level, no matter if you are an administrator or a teacher, definitely set expectations.
As long as I remained frustrated about it, it was never going to improve so I focused on making that situation (co-teaching) as positive as I could
When you are going through those hard times, there is always a purpose behind it. You may not recognize what it is in the moment but if you stay committed to it and keep working to try and solve and get through it the best you can, one day you are going to look back and be like, "Wow! If I did not go through that, I would not be able to appreciate where I am now."
Start small. Change one little aspect, work on one little part and when you get that, add something else to it. One day you will walk in and you are just rocking and rolling.
Once you connect with them, once you get them hooked, there is nothing that they will not do for you.
This episode is sponsored by Power School/Schoology's Time for Teachers initiative.
Stamp of Approval
Connect with Erica
Social Media Handles (Twitter, Instagram, Facebook & Pinterest): @ericaterryceo
Website: www.ericaterry.co
Connect with Gretchen
Email: gretchen@alwaysalesson.com
Blog: Always A Lesson
Facebook: Always A Lesson
Twitter: @gschultek
Instagram: Always.A.Lesson
Linkedin: Gretchen Schultek Bridgers
Google+: Gretchen Schultek Bridgers
Book: Elementary EDUC 101: What They Didn't Teach You in College
Shop AAL Swag
Join the Always A Lesson Newsletter
Coaching Call
Leave a Rating and Review:
https://itunes.apple.com/us/podcast/always-lessons-empowering/id1006433135?mt=2
Why?
This helps my show remain active in order to continue to help other educators remain empowered in a career that has a long lasting effect on our future.
How?
Search for my show in iTunes or Stitcher.
Click on 'Ratings and Reviews.'
Under 'Customer Reviews,' click on "Write a Review."
Sign in with your iTunes or Stitcher log-in info
Leave a Rating: Tap the greyed out stars (5 being the best)
Leave a Review: Type in a Title and Description of your thoughts on my podcast
Click 'Send'