212: Bonus Edition- Interview with Lisa Johnson
Lisa Johnson has 19+ years of edu experience ranging from teaching HS English & MS Math to international curriculum development, creating and presenting workshops, and even running technology integration camps across the state. She holds a Master's Degree in Curriculum, Instruction, & Tech and currently serves as an Educational Technologist for a 1:1 iPad H.S. in Austin, Texas. Additionally, she has been recognized and selected as an Apple Distinguished Educator and PBS Digital Innovator. Lisa is passionate about college and career ready skills, instructional design, digital portfolios, research and curation, slide design, social emotional learning, and professional development for students. She is also the author of two books, Creatively Productive: Essential Skills for Tackling Time Wasters, Clearing the Clutter, and Succeeding in School—and Life! and Cultivating Communication in the Classroom: Future-Ready Skills for Secondary Students (Corwin Teaching Essentials).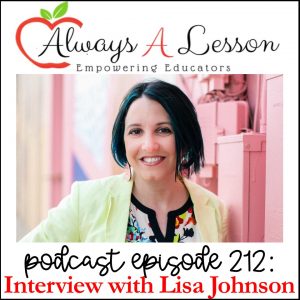 Quotables
You need that piece of self-care. Yes you need to be authentic but it is sometimes hard to be authentic when you are not really understanding who you are and what you value and where you want to go in education and what you want to do with the content and your students.
I think you should be open to learn from anybody who inspires you.
What I try and do is figure out what are my values, what are my goals, what do I want to learn? Because I don't think you can stay current in everything, there is not really a way to do that.
A lot of times kids just need to know how to be good human beings and to deal with all of these things in the current world that is just thrust upon them. Modeling how we handle situations is really important.
Stamp of Approval
Connect with Lisa
Connect with Gretchen
Email: gretchen@alwaysalesson.com
Blog: Always A Lesson
Facebook: Always A Lesson
Twitter: @gschultek
Instagram: Always.A.Lesson
Linkedin: Gretchen Schultek Bridgers
Google+: Gretchen Schultek Bridgers
Book: Elementary EDUC 101: What They Didn't Teach You in College
Shop AAL Swag
Join the Always A Lesson Newsletter
Coaching Call
Leave a Rating and Review:
https://itunes.apple.com/us/podcast/always-lessons-empowering/id1006433135?mt=2
Why?
This helps my show remain active in order to continue to help other educators remain empowered in a career that has a long lasting effect on our future.
How?
Search for my show in iTunes or Stitcher.
Click on 'Ratings and Reviews.'
Under 'Customer Reviews,' click on "Write a Review."
Sign in with your iTunes or Stitcher log-in info
Leave a Rating: Tap the greyed out stars (5 being the best)
Leave a Review: Type in a Title and Description of your thoughts on my podcast
Click 'Send'