209: Reverse the Chain of Command
If you want to truly hone your leadership craft in a way that has a tremendous impact, ask the right people for feedback. You can read all the books, follow all the people, and take all the conferences, but if you do not hear from the ones you lead about how they need and want to be led better, then you'll never transform into the most impactful leader you can become. Tune in for 3 easy steps on how to reverse the chain of command and achieve new heights in your leadership.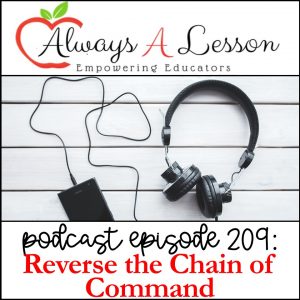 Quotables
When I paid attention to the reaction and the response of those I was leading, I started to collect what I call intel. I used that insight to adjust my approach and my strategy.
 The more that I reflect and pay attention, the better I get at adjusting in the moment.
 You might have to read between some of the word choices or exaggerations but I promise you there are nuggets of truth and helpful redirection if you look closely enough.
I would apologize and rephrase what I said so that what I meant had a chance to make it to their ears and to their minds and to hearts.
You want to know what happened, when does it often occur, and what do you wish had happened instead?
The worst thing you can do is problem solve, and your next solution still is not helpful!
I've got to know not only what is not working but more importantly, how it is that you want it to work.
We want to repair our missteps so that we can be better faster.
When you lead people, their feedback is personal and unique.
This is a long game, it's never over. Your feedback might change but your habit of responding to the feedback doesn't.
Join the Always A Lesson Newsletter
Shop AAL Swag
Sponsorship
Connect with Gretchen
Email: gretchen@alwaysalesson.com
Blog: Always A Lesson
Facebook: Always A Lesson
Twitter: @gschultek
Instagram: Always.A.Lesson
Linkedin: Gretchen Schultek Bridgers
Google+: Gretchen Schultek Bridgers
Book: Elementary EDUC 101: What They Didn't Teach You in College
Leave a Rating and Review:
This helps my show remain active in order to continue to help other educators remain empowered in a career that has a long lasting effect on our future.
https://itunes.apple.com/us/podcast/always-lessons-empowering/id1006433135?mt=2
Search for my show in iTunes or Stitcher.
Click on 'Ratings and Reviews.'
Under 'Customer Reviews,' click on "Write a Review."
Sign in with your iTunes or Stitcher log-in info
Leave a Rating: Tap the greyed out stars (5 being the best)
Leave a Review: Type in a Title and Description of your thoughts on my podcast
Click 'Send'