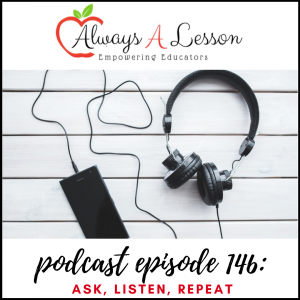 Leading others can be difficult, but with some guidance, teacher leaders can not only hone their own craft but build capacity in those that they lead. By using a cyclical process of asking questions and listening to the answers, teacher leaders can uncover potential obstacles those they lead are facing before helping a teacher implement a new skill. Tune in for tips and strategies to ask, listen and repeat!
Quotables
Use the power of the people to make an impact
Listen undistracted
Help kiddos get to rigorous levels of understanding by questioning, not telling them how to get there
To be knowledgeable doesn't mean you are talkative
 Teach them to fish; don't feed them fish
A true leader learns alongside their team
That is strong leadership- a leader leading without taking the reins
Don't expect perfection
Join the New Teacher Support Facebook Group
Join the Always A Lesson Newsletter
Connect with Gretchen
Email: gretchen@alwaysalesson.com
Blog: Always A Lesson
Facebook: Always A Lesson
Twitter: @gschultek
Instagram: Always.A.Lesson
Linkedin: Gretchen Schultek Bridgers
Google+: Gretchen Schultek Bridgers
Book: Elementary EDUC 101: What They Didn't Teach You in College
Leave a Rating and Review:
https://itunes.apple.com/us/podcast/always-lessons-empowering/id1006433135?mt=2
Why?
This helps my show remain active in order to continue to help other educators remain empowered in a career that has a long lasting effect on our future.
How?
Search for my show in iTunes or Stitcher.
Click on 'Ratings and Reviews.'
Under 'Customer Reviews,' click on "Write a Review."
Sign in with your iTunes or Stitcher log-in info
Leave a Rating: Tap the greyed out stars (5 being the best)
Leave a Review: Type in a Title and Description of your thoughts on my podcast
Click 'Send'