Celebrating My Podcast's 1st Birthday!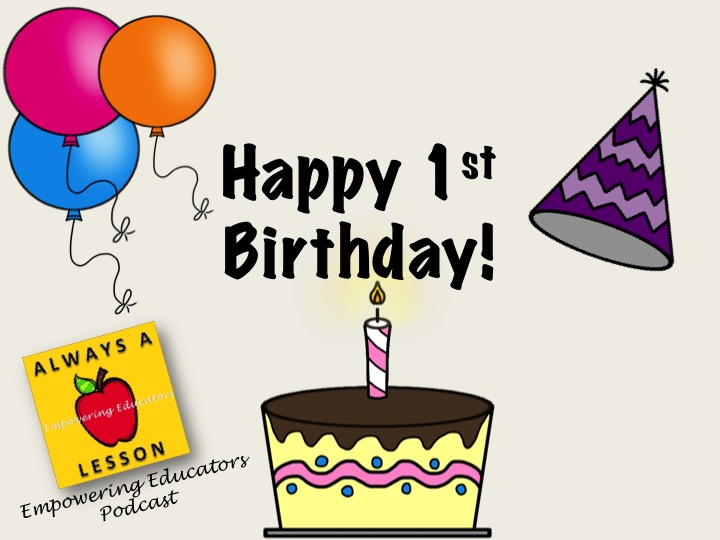 Graphics courtesy of Erin Waters
I cannot believe one year ago today I took a leap and turned my blog into a podcast to help reach more teachers who are always on the go. It has been a fantastic ride so far. I have met supportive listeners, empowering educators, and learned even more about instructional best practices to ensure our future continues to get brighter.
Thanks to all of you who have supported the Empowering Educators podcast, subscribing to get weekly episodes right to your devices and leaving thoughtful reviews on iTunes to ensure it continues reaching the ears of educators near and far.
Below are 5 lessons I have learned over this past year as a podcaster:
5. Teachers are human and are drawn to other flawed, inspired educators. To ensure I not just bring quality content but am relatable, I need to focus more on being myself and not editing an episode so much that it is "perfect" but lacks appeal.
4. Although podcasting comes at a cost (equipment, audio hosting websites, etc), its not worth bogging down my show with a bunch of sponsors just to keep the cost low on my end. Listeners told me they wanted to just hear me without getting interrupted by a long intro, commercial breaks or sponsored endings.
3. Stories help others connect. The more I can share an educational principle or technique and tie it to my personal experience, the validity in what I am saying increases in multitude.
2. My pain brings release to others. When I share mistakes I have made and obstacles I have faced, listeners are drawn in. They realize these moments are for character building and tend to be blessings in disguise. Hearing my honest rear view mirror reflection of my own journey help those currently going through struggles hang in there.
1. Keeping my ear to the street ensures I am sharing timely content. Instead of planning out my shows weeks in advance as my Type A personality prefers to do, waiting until a few days before I need to record an episode to get inspired by what is currently happening in my life and the educational field, helps my passion stay high, my content remain relatable and the timeliness of the topic remain ideal for listeners.
I have enjoyed this new platform to connect with educators and I cannot wait to see what the next year brings! Continue tuning in each week (or binge listening in the summer) and I look forward to connecting personally with each and every one of you.
In honor of my podcast, I'll end this blog post how I end every episode…"Go out and be great because you've just been inspired!"