An Engaging Literacy Night Parent-Student Activity
Many schools host families for a Literacy Night. This is a way to build relationships with families while also emphasizing the importance of reading and writing both at home and school. During Literacy Night, many interactive activities are shared so that parents can replicate the literacy practices at home to support their children.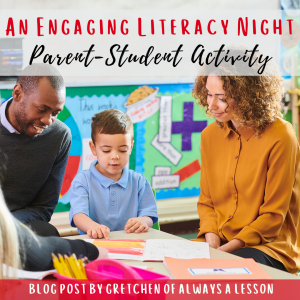 Many teachers and leaders look for new ideas to share at their Literacy Night. This post will share an activity that can be used over and over again, no matter the age of the child.
Prior to the Activity
When families arrive, they can visit their child's desk area to see a finished work related to literacy (ie. poem they have written, a completed book report, etc.) There are a few options for what happens next.
Once everyone arrives, the teacher (or students themselves) can read a short story and then dismiss the family and students to play the activity together based on the storyline of the short story. This option takes more time and requires everyone to be present at the same time- which can be difficult if parents have to visit multiple classrooms in one evening.
The teacher can choose a common text that most family members would be familiar with (ie. The Very Hungry Caterpillar, Goodnight Moon, etc.). Instead of reading it aloud then, the family and students can refresh thier memory of the story events and immediately begin playing the activity together. This allows more flexibility in allowing people to come in and out of the classroom without missing instructions.
The Activity
Literacy Discussion Dice is an activity that requires two dice, a genre-specific print out of question prompts, and a common text.
After students have read a common text, they will come together in pairs to discuss the rigorous text with ease! It is an engaging, collaborative way to comprehend difficult texts with peers.
This builds comprehension as students share their responses to the questions, deepening their knowledge of the topic.
This activity can be replicated with multiple texts throughout the year. Once students understand how to play, they can quickly complete the activity in the future with another genre or text. When students repeat activities, they use less brain power to understand the process of the activity and repurpose that brain power into better understanding the content.
Students can pair up as peers in the same class, as peer mentors with a younger class, or during Literacy Night with their family. When students showcase their learning with family, celebration ensues!
How to Play
Students will alternate turns with a peer.
Roll the dice
Answer the question that matches the SUM of the numbers of the dice.
Record answer on the provided worksheet
Repeat until all questions have been answered
After the Activity
Once parents and students have played the activity, the teacher can request students to take the activity home with them and play it again together as a family with a book they have at home. This is a fun weekend or holiday break family activity that reinforces reading comprehension. Not only do parents get to experience unique classroom instruction with an engaging activity, but they can bring it home and do it with multiple books and with every child in the home. The ease of replication makes this a win-win activity for parents and students.
Give this resource a try at your next Literacy Night! Download this resource here.
GO BE GREAT!

What engaging Parent-Student activities do you recommend for Literacy Night?