3 Tips to Maximize Student Engagement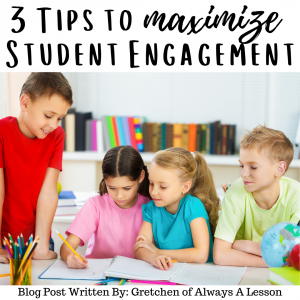 Student interaction is just the beginning of student engagement. If we want students to truly be successful in the classroom, we cannot let it end there.
What's the Difference?
Interaction means students are responding in a limited form to each other and yourself as the instructional leader of the classroom.
Engagement means students are authentically interacting with each other and yourself as they learn content topics and apply acquired skills.
This post is the third in a series of posts (3 of 3) to help teachers grow one instructional strategy at a time.
How to Move from Student Interaction to Student Engagement
Getting students to interact with each other and the content you are teaching is a great first step. It is important that students become comfortable enough to share their ideas with their peers, ask questions of you the instructional leader, and respond in a variety of ways as they make sense of the content. That in itself takes intentionality and structure.
However, it does not move the student achievement needle. Interaction could be head nodding, polling raised hands, writing on sticky notes, hand signal responses, etc. These are low level activities and will not push students to deeper understanding of their own knowledge or each other's.
Below are three steps to move beyond interaction into true student engagement.
Plan for Student Engagement
When you write your lesson plans, you'll want to think through how you want students to engage with the material and each other throughout the lesson (direct instruction, guided practice, and independent practice). If you do not make time in your lesson for students to stop and engage, you'll end up passing up the opportunity in real time. Plus, pausing for engagement allows students to process information, communicate with their peers, and break up the monotony of the lesson. 
Find an easy system in your lesson plan to mark engagement opportunities. At a glance, you'll be able to see if portions of your lesson are light or heavy in engagement prior to delivery. Then you can tweak it as necessary. These same markings will help you easily and quickly notice moments of engagement during your lesson delivery so that you do not pass them up. 
Execute for Student Engagement
When it comes time to deliver your lesson in real time, you'll want to ensure you provide sufficient time for students to successfully engage. Trying to rush and squeeze it in is more harmful than if you left it out completely.
Be sure to teach students expectations for how they are to appropriately engage as well as provide an exemplar of how it should look and sound. This helps students understand what is expected of them as well as support their ability to meet the expected requirement. 
Don't forget to praise students for engaging, as it is often uncomfortable for them at first. This will build momentum in your lesson and safety in your classroom climate.
Maximize for Student Engagement
Once your feet are wet with getting students to engage with material and each other, you'll want to step things up a notch.
Empowering students to take ownership in each engagement opportunity will ensure you maximize their learning. They can lead, model, and shout out praiseworthy engagements. The more students get involved in the process, the more time on task will occur. This in turn creates a deeper understanding of concepts and relationship development with their peers.
If you are ready to take your student interactions and turn them into rigorous, authentic engagement opportunities, grab a slot on my calendar. We can talk about how this can look in your very classroom with your specific students.
GO BE GREAT!

How have you successfully engaged your students during a lesson?