183: Remain Passionate When Your Toes are to the Fire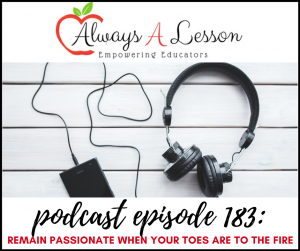 Educators experience stress just like all other professions. Sometimes those seasons of stress feel never ending and can even convince you that your life in education will never be any different than the ugly struggle it is right now. The truth is, seasons of stress when your toes are to the fire are moments for growth. Tune in to hear a 3 step system to help you tackle those seasonal stressors while never losing your passion along the way.
Quotables
Whether you sink or swim, you learn what to do next time.
Stress is an old friend… It will keep coming around, so you might as well get to know it.
the flame instead of running around screaming about the fire.
You don't want to relive the same stress even if you meet the same fire.
My passion started to grow in the same place where it was once stolen
Shop AAL Swag
Join the Always A Lesson Newsletter
Join the New Teacher Support Facebook Group
Connect with Gretchen
Email: gretchen@alwaysalesson.com
Blog: Always A Lesson
Facebook: Always A Lesson
Twitter: @gschultek
Instagram: Always.A.Lesson
Linkedin: Gretchen Schultek Bridgers
Google+: Gretchen Schultek Bridgers
Book: Elementary EDUC 101: What They Didn't Teach You in College
Leave a Rating and Review:
https://itunes.apple.com/us/podcast/always-lessons-empowering/id1006433135?mt=2
This helps my show remain active in order to continue to help other educators remain empowered in a career that has a long lasting effect on our future.
Search for my show in iTunes or Stitcher.
Click on 'Ratings and Reviews.'
Under 'Customer Reviews,' click on "Write a Review."
Sign in with your iTunes or Stitcher log-in info
Leave a Rating: Tap the greyed out stars (5 being the best)
Leave a Review: Type in a Title and Description of your thoughts on my podcast
Click 'Send'