165: Bonus Edition- Interview with Cole Alexander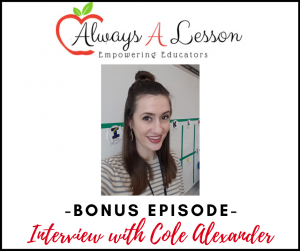 Cole graduated from the University of Houston – Downtown with a bachelor's degree in Urban Education. She spent the last 7 years teaching Pre-K and Kindergarten in Title 1 schools in Houston, Texas and the last two years teaching in the STEAM lab in an Early Childhood Center. Cole is passionate about giving students hands-on learning experiences and differentiating instruction. When she is not teaching, you can find her chasing around her sweet 1 year old boy, drinking LOTS of coffee, creating products to share with other educators, or catching up on her guilty pleasure – reality TV!
Quotables
Have a passion and love for kids
Show up and do your best for kids every day
Be consistent with the quality of lessons you put out
Kids thrive in an environment when they know what is expected of them
Curveballs are thrown at you all the time…expect the unexpected and roll with the punches
Learn as much as you can, but don't try to implement what you learned all at once
Cole's Stamp of Approval
Facebook Group-
Individualized Instruction for Students (Differentiation & Small Group)
STEAM/STEM centers
Gretchen's Stamp of Approval
Connect with Cole
Connect with Gretchen
Leave a Rating and Review:
https://itunes.apple.com/us/podcast/always-lessons-empowering/id1006433135?mt=2
Why?
This helps my show remain active in order to continue to help other educators remain empowered in a career that has a long lasting effect on our future.
How?
Search for my show in iTunes or Stitcher.
Click on 'Ratings and Reviews.'
Under 'Customer Reviews,' click on "Write a Review."
Sign in with your iTunes or Stitcher log-in info
Leave a Rating: Tap the greyed out stars (5 being the best)
Leave a Review: Type in a Title and Description of your thoughts on my podcast
Click 'Send'