Webinar Release: Authentic, Actionable Feedback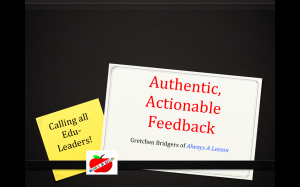 How do you get better at something? You practice over and over, but not just by yourself. You generally have someone nearby with experience giving you feedback on what to tweak to increase your performance.
If its that simple, then why are schools not using this philosophy? Educators get unhelpful feedback in the form of a rating/score weeks after a lesson has been delivered with unclear next steps on how to better their performance. No wonder educators' growth is stymied.
I don't want that to continue to be the reality. In this webinar, you will get the secrets to how to provide authentic, actionable feedback to those that you lead. Here's what's included:
Current forms of feedback and why it doesn't work
The type of feedback that educators need
Creating a system of feedback- HOW's and WHY's behind the WHAT
Building a culture of feedback in any school
Free resource included!
Gain access to this 40 minute jam packed value webinar by clicking on the image above.

Have an idea for a future webinar?
Leave it in the comments below or shoot me an email: gretchen@alwaysalesson.com and I'll create it for you!
Want more webinars? Click here.