Webinar Release: Leading Effective and Engaging PD Sessions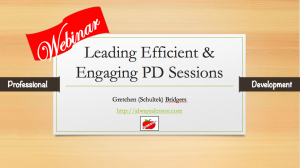 Professional development [PD] is necessary in order to ensure educators are up-to-date on best instructional practices. However, the term 'professional development' has taken on a negative connotation over the years as it generally refers to lengthy sit and get sessions that bring little value to a classroom. These PD sessions when given by an "expert" tend to be hard to visualize how it applies to current students or classroom atmospheres.
In order to ensure that the necessity of a PD session remains a priority is to ensure it is applicable immediately in the classroom. I designed this webinar to help educational leaders provide PD that makes staff RUN TO not from the meeting location.
What's inside this 50 minute jam packed value webinar?
Why the current form of PD doesn't work
Planning Strategies and Tips
Preparation and Execution Support
Free Planning Guide
Just click the image above to gain access to this transformative webinar.

P. S. Want more webinars? Click here.