155: Bonus Edition- Interview with Angela Watson
ANGELA WATSON (formerly Powell) has earned international recognition for her unique contributions to the field of education.  A pioneer and trailblazer of modern teacher blogging, she was first known for Ms. Powell's Management Ideas for Teachers, a website she created in 2003 to share behavior management strategies, teaching techniques, and organizational tips. The site was expanded and renamed TheCornerstoneForTeachers in 2008.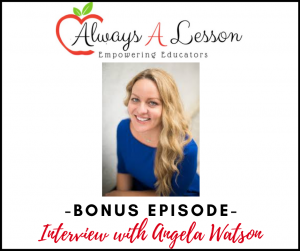 Since then, Angela's ideas have been featured in thousands of magazine articles, newsletters, and internet resources, and are utilized in teacher preparation and support programs throughout the nation. Having earned a master's degree in Curriculum and Instruction and National Board Certification as an Early Childhood Generalist, she currently works as an instructional coach and educational consultant based in Brooklyn, New York.
Angela has 8 years experience as a K-12 instructional coach and 11 years experience in the PreK-3 classroom. As founder of Due Season Press and Educational Services, she has created printable curriculum resources, online courses, 4 books, the Truth for Teachers podcast, and the 40 Hour Teacher Workweek Club.
Quotables
You have a lot of responsibility, but not a lot of autonomy
Traditional time management advice doesn't really apply to teaching
Teaching is a complex job
If you do not have enough time, that is not your fault
What teaching looks like now is completely different from what it looked like 5 years ago
Envision a better way
Does the amount of hours worked equate with effectiveness?
It's not about how long you are working or how hard you are working, but are you working on the right things?
As teachers we are waiting for permission
Mind shifts happen over time
I am not satisfied with the status quo
Small changes add up to big results
40 Hour Teacher Work Week Club
Check out this podcast episode (and blog post) related to the 40 Hour Teacher Workweek:
Instructions to Join:

When purchasing, enter your Gretchen Bridgers / gretchen@alwaysalesson.com as the person who referred them.
Early bird access = June 5th

Access to all the June club materials (summer planning, home organization, bonus materials, sharing ideas in the Facebook group.)

Official open dates = July 1-18
Connect with Angela
Connect with Gretchen
Email: gretchen@alwaysalesson.com
Blog: Always A Lesson
Facebook: Always A Lesson
Twitter: @gschultek
Instagram: Always.A.Lesson
Linkedin: Gretchen Schultek Bridgers
Google+: Gretchen Schultek Bridgers
Book: Elementary EDUC 101: What They Didn't Teach You in College
Leave a Rating and Review:
https://itunes.apple.com/us/podcast/always-lessons-empowering/id1006433135?mt=2
Why?
This helps my show remain active in order to continue to help other educators remain empowered in a career that has a long lasting effect on our future.
How?
Search for my show in iTunes or Stitcher.
Click on 'Ratings and Reviews.'
Under 'Customer Reviews,' click on "Write a Review."
Sign in with your iTunes or Stitcher log-in info
Leave a Rating: Tap the greyed out stars (5 being the best)
Leave a Review: Type in a Title and Description of your thoughts on my podcast
Click 'Send'